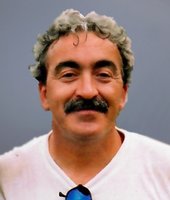 Thomas Harold Bates
Our brother Tom is at peace. He left us on June 17th 2019.

For some, death comes as the enemy; for others, as a friend. After more than 4 years, Tom was able to welcome death as a friend and he courageously went towards it.

With big wide eyes, the last question he asked of us was, "Where's Eileen?" We believe that she is the angel who came for him.

He heard the voice of God calling him home and he went willingly and with our blessing.

Watching someone you love endure so much pain and suffering, merely to survive, has changed forever the way we perceive life.

Through it all he somehow still managed to smile.

No matter how many times we told him we loved him, it could never be enough and we will mourn for all the times we will not be able to tell him now.

Everyone who knew Tom knew of his great love for animals and all of God's creatures. If birds came to his window sill he would open it and talk to them and feed them. And if a few mice appeared to share the bird seed he fed them too.

If a spider happened to crawl along the ceiling, he would watch it, learn from it and even name it. But never would he kill it.

Always, he remembered our childhood dog, Lucky, and his 3 cheeky ferrets.

My sister will tell of the day that he was born. How two little girls sat quietly before a fire at 19 Dawes Avenue and waited with an excitement like Christmas morning... of seeing him for the first time in all his newness, and as our eyes met, knowing that we would love him for the rest of our lives.

I love the story my brother Tim tells of the two of them going to the movies. I see them even now in my mind's eye, the two of them together, brothers. One small, the other a little taller. The little brother hand tucked safely into the big brother hand. One dark curly head looking down on the lighter curly head as they talked and laughed and made their way across the railroad tracks and down Main Street on their way to an afternoon at the movies. And I can't help but think that when the end came, the roles were reversed. The little brother looked down lovingly on his big brother, and laughed and talked him ever so gently to his rest.

Tom is another name for unconditional love and that was so true of how he loved us.

And we love him and cherish him because he is ours still and we are grateful for it.

He was remarkable and courageous.

Fly with the angels, Dear One. Your light still shines.
Tom will live on in the hearts and memories of his surviving sisters, Gerrie Smith and husband Brian, Shirley Kafka and husband Tyrone, brother Timothy Bates and wife Marlene, as well as several nieces, nephews, and extended family. He was predeceased by his parents, father Thomas Joseph Bates and mother Eileen Dorothy Bates.
Tom had many jobs over the years, from panning for gold in the Yukon, electrical contracting in Winnipeg and the one I think he loved the most, working in the film industry out of Vancouver.
Family would like to extend many thanks to all the staff at the Deer Lodge Centre for all they were able to do for him while he lived there. While there are far too many to mention, there were a few that Tom would like to acknowledge:
Maria, Shannon, Terry, Martin, Andrew, Alma, Laurie, Shelly, Melissa, Sheila, Ken, Julieta, Eva, Julie, Sandy, and one very special cleaning lady, Marilou.
A special mention to Dr. Mike Dillion, Angie, and many others from Klinic Community Health for there tremendous support over the years. They are a very special team there for sure!
Also thanks goes out to staff at the Health Science Center Rehab unit for all their efforts and all they did for Tom.
Thank you to Jeff and his team at Go Orderly for providing excellent transportation over the last few years, making the few outings he was able to attend possible.
To everyone mentioned and to many that are not, Tom and our family thank you all very, very much!