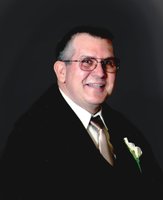 Clayton Wayne Cooper
After a lengthy battle with heart disease, Clayton passed away at home on June 23, 2019 at the age of 72 years. He was surrounded by his loving family and many friends who came to visit or send him well wishes during his final days.
Left to cherish Clayton's memory is his beloved wife, Jeanette, of 45 years. Clayton will also be lovingly remembered by his son Chris (Amanda); daughter Tanya (Craig); grandchildren Brailee, Jaden, Connor and Madison. Also mourning his passing is his brother Dale (Sharon); sister Linda (Gary); brothers-in-law Leslie Prosak (Kathy) and Mervin Prosak (Julie); sister-in-law Lynn Prosak; as well as nephews Tyler, Conrad, Darren, Jeff, Scott, Robert and Michael. Also remembering Clayton is Gary Benoit.
Clayton was predeceased in life by his parents, Rose and Fred; brother-in-law Ernie Prosak; and sister-in-law Marie Goran.
Clayton was born on June 18, 1947 in Portage la Prairie, MB but spent most of his life in Amaranth, MB where he attended Smalley School until grade seven. He would complete grade eight and nine at Amaranth School before leaving to join the work force.
While working construction for Cheguin in Shoal Lake, MB during the mid 70's,Clayton met his future wife Jeanette. Soon after being married, they started both a family and their life long business. In 1975, side by side with Jeanette, his brother Dale, friend Paul Johnson and many other family members, Amaranth Redi-Mix was established. It was a labour of love only matched by the births of their 4 grandchildren. Amaranth Reid-Mix started from the ground up and initially involved breaking concrete bags by hand to get the job done. His dedication and passion towards his life work became even more rewarding when his son, Chris joined the team. Clayton often spoke fondly of the times they worked in Northern Manitoba together. His company evolved and his staff grew, but to him, they were always more than employees, they were part of his family.
Clayton was a man who enjoyed a challenge and didn't mind taking a few risks. He was rarely seen without a phone in his hand and the word hard work did not exist, rather just another obstacle to overcome. This was tested often by some of the projects his daughter Tanya requested of him, but they were always completed by Clayton with some sarcasm and a great sense of humour. He had a fun loving passion for life and adventure, whether that be heading up north by boat to camp out in a bush with friends and family, travelling in his motor home with Jeanette and the kids, ice fishing on lake Manitoba or rolling around on the floor and going off to make believe places with his grandchildren. Clayton will be remembered for his generous spirit and kindness and it is comforting to know that he would have done absolutely anything for his family. He will be deeply missed but lovingly remembered.
The family extends their gratitude to the numerous medical teams over the years, but more recently, Dr. Zoppa and Home Care Manitoba. A special thanks to Melanie Bernas (RN) and Dr. Donna Clark from the Palliative Care Program. Thanks to the special work you do, we were able to have our husband, father, grandfather and friend in the comfort of his own home, something which Clayton deeply appreciated.
A Celebration of Clayton's life will be held on Saturday, July 6, 2019 at 1:00 p.m. at Korban Funeral Chapel, 907 Main Street in Winnipeg.
In lieu of flowers, donations in Clayton's memory may be made to Palliative Manitoba or the Heart and Stroke Foundation.