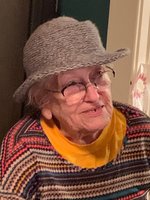 Sigrid Barbel Boning
Our Sigrid left us on the eve of her 82nd birthday. She will be lovingly remembered by her sons, Chris (Marc), David (Larissa), her daughter in law, Susan, grandchildren, Willem, Roz (Ketsada), Claire, Merritt and Esme, and her great grandson Viggo. Sigrid was predeceased by her husband Jan, her son Frieso, her sister Inge Willert (Heinz) and her parents Arthur and Meta.
Sigrid met her true love in Jan. Together they emigrated to Canada and got married. They raised their family in Winnipeg. Her early career was in drafting and later in the Eaton's advertising department.
Sigrid had a wide range of interests and passions. She sought knowledge in everything. She loved art and history, was a voracious reader and someone who loved to explore her world through travel and via many continuing education courses. She also enjoyed exploring her own city and rode her bicycle around town into her seventies. She was always an artist turning household objects into sculpture, making dolls and toys for the kids. She was involved with the doll club, the women's league at the Art gallery, and volunteered later in life at the Children's Hospital Guild Nearly New Shop.
Sigrid loved time spent with friends and family. She had a way of being able to talk to anyone and always walked away with a great story to tell. Sigrid is deeply loved and will be greatly missed. Her influence in our lives will continue.
If you wish, please make a donation to Rossbrook House in lieu of flowers.
A celebration of Sigrid's life will be held on Tuesday, July 30, 2019, at 1pm, at the George Taylor Hall at McClure Place, 533 Greenwood Place.