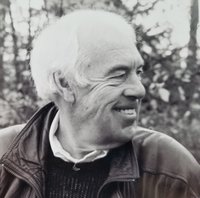 R. Douglas Gillmor
Ralph Douglas Gillmor was born in Fort Frances, Ontario and attended the University of Manitoba, where he received a Bachelor of Architecture degree and was the gold medalist in his graduating class. In Winnipeg he boarded with Georgina and Donald Mainland and fell in love with their daughter Donna. They married in 1953.
The following year they moved to Cambridge, MA where Doug attended MIT on a scholarship, earning a master's degree in architecture. Moving back to Winnipeg, he became a partner in a fledgling architectural firm - Blankstein Coop Gillmor Hanna. They merged with Waisman Ross to become Number Ten Architectural Group (named for their original address on Donald Street).
Doug worked on many prestigious projects, among them the John A. Russell Building at the University of Manitoba, the Mendel Art Gallery in Saskatoon, the Canadian Embassy in Islamabad, Pakistan, the Winnipeg Art Gallery, and the Manitoba Theatre Centre. An early project was the cool ceiling design at the iconic Winnipeg restaurant Rae & Jerry's. All the while he distinguished himself as a professor of architecture at the University of Manitoba.
In 1971 he and his family moved to Calgary, where he founded the Architecture program in the newly created Faculty of Environmental Design and became its first director. In Calgary he finally got to design his dream house. Located on an acreage west of the city, the house was built on three levels, cantilevered over a steep hill. It had floor-to-ceiling windows and glorious communal spaces and reflected many of the principles of Frank Lloyd Wright, an architect he admired. He and his family lived there until 2000.
His commitment to architecture was all-encompassing, and included design, teaching, serving on juries for design competitions, and advising. He was a member of the Advisory Design Committee of the National Capital Commission in Ottawa for three years, then chair for another three. He served on the jury for an international competition to design the Canadian embassy in Berlin and was a member of the 1988 Calgary Olympic Games Organizing Committee.
In retirement, Doug remained a professor emeritus at the University of Calgary. As part of his extensive volunteer service, he was National Director of the Royal Architectural Institute of Canada Syllabus Program, which allows people working in the architecture profession to proceed through a course of study to reach professional registration. He was a member of the Banff Heritage Corporation for 13 years, receiving the Town of Banff Lifetime Heritage Award. He was a professional advisor for the Canadian Museum for Human Rights in Winnipeg, assembling the jury for the international competition. He won numerous awards for his designs and service. In everything he did, he was motivated not by personal ambition but by his pure love of architecture and its possibilities.
Doug was a shining example of moral rectitude to all around him, a man who always did the right thing. He had a deep intellectual curiosity that embraced music, architecture, travel and literature and extended to the profession of everyone he encountered. At an Alberta rodeo he once perched on the pen as a cowboy was tying himself to a Brahma bull, asking the man about his unique job. The bull crashed around the pen, leaving a large gash in Doug's arm. He was taken away to the hospital, the only casualty that day. He lingered in museums for hours, whether it was the Louvre or the Yukon Transportation Museum in Whitehorse. He was probably the only person outside of Russia who thought the five-hour Russian film And Quiet Flows the Don was too short.
He had a gift for friendship and his wide circle of friends spanned those from his childhood in Fort Frances to people he knew in Winnipeg and Calgary, as well as his academic colleagues. He was a devoted husband, a wonderful father, and a beloved and doting grandfather. He is loved and dearly missed by his wife Donna, his brother Alan, his son Don and daughter-in-law Grazyna Krupa, daughter-in-law Carolyn Wishart, his daughter Alison and son-in-law Jeff Hershfield, and his grandchildren Ivy and husband Tim Schulhauser, Andrew, Justine, Sophie and Cormac, and great-grandchildren Hayden and Beckett. He was predeceased by his beloved son David and by his brother Donald.
The family would like to thank Doug's dedicated homecare workers, the caring staff at Riverwood Square, and the compassionate nurses and aides on the sixth floor of Parkview Place.
Cremation has taken place and no formal service will be held.
For those who wish, donations can be made to the Canadian Museum for Human Rights.