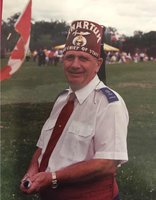 Robert "Bob" Turnbull
Robert (Bob) Turnbull - age 86 - came into the world and left the world at St. Boniface hospital, not at home in his recliner like he really would have wanted. We're sure that he will hold that against us for quite some time. The only good thing about being in the hospital was that he didn't have to wear pants. Pop-in visits at home were always at the risk of Bob not having any pants on, he couldn't wait for you to leave so he could take his pants off.
He was predeceased by his parents (Harry and Eliza), and brothers (Alex and Hughie). He is survived by his wife of 63 years (Jean) and 4 daughters – that he always wished were boys – Debbie (Neil), Kimberley (Kim – nope not a typo, for real), Sandie AKA "Monster" (Ken) and then finally getting it "right" Heather (Terence). More importantly to him, he is survived by his grandchildren Jason (Carolyn), Erin, Colin (Shannon), Kyle (Amy), Michelle (Lindsey), Eric (Kayla), Cole and Logan. After the grandchildren his daughters got demoted further when the great grandchildren arrived. Zahra, Everett, Mason, Ayla, Madelyn,Melanie, Freya and Barrett will miss their very special Great Grandpa. Someone else will have to take up the charge to contribute to their tooth decay and diabetes through a copious supply of treats and candy.
He grew up in East Kildonan with his parents, 3 troublesome brothers and sister. Brother Barry and Sister Beverly – AKA "Bitty" will miss their pain in the A$$ brother.
Dad joined the army as a young man where he became a Sergeant as part of the 39th Field Artillery Division (which is why he cannot hear a thing that you say). In a drunken stupor one night at the Sergeant's Mess, he convinced his buddy Doug to introduce him to his sister who would become his wife of 63 years of bickering over primarily candy and driving. After leaving the army Dad went onto a career in Forest Inventory with the provincial government, none of us are clear what that means. According to him – he counted trees and we know that it contributed to his distain of camping.
As a government employee, it meant that he had plenty of time to take on extracurricular activities. He was an accomplished Football Official where he contributed as an official and a builder to the sport, recognized in 1982 by Football Canada with the Tom Cheney Award. He was a Mason, Legion Member, and spent many nights drunk and disorderly following the calling of the Shriners. The shenanigans continued as Mom and Dad split their time between Winnipeg and Arizona in their early retirement years where he could golf to his heart's content and continue his love of golf as a member at Elmhurst. Bob's passion for his grandchildren became a key activity in his retirement as he watched his grandchildren passionately – TOO passionately…sorry to anyone he insulted at their sports events. Practices, games, parent parties – he attended them all.
Special thanks to the staff at St. Boniface Hospital. The amazing staff helped us to make this transition with support and dignity. ICMS nurses, Vida, Sara, and Cat were very supportive to us all. The palliative care team and care team on 5E along with Tom, Lisa and Abeba were amazing and tolerated our large and crazy family that looked a bit like a clown car with a never-ending arrival of family members. There are too many more staff members to mention – thank you all. You should be glad that our dad couldn't communicate because he would have been a lot more trouble! We know that he would have been yelling at his daughters.
Although he couldn't articulate it, we know that his last word would have simply been…"Well" which was always the indication that it was time to go. Safe travels Dad. We love you and will miss you.
The service will take place on Friday August 16, 2019 at 1 pm at the Transcona Legion, please avert your eyes as you walk to the building as Bob will be rolling in his grave as he notices the NDP election headquarters right next door. Please don't mention it during the service – it will upset him.
In Lieu of flowers, we would appreciate donations to the Heart and Stroke foundation or the St. Boniface Hospital (St. Boniface Hospital – select Pallative Care as they were so supportive to us).