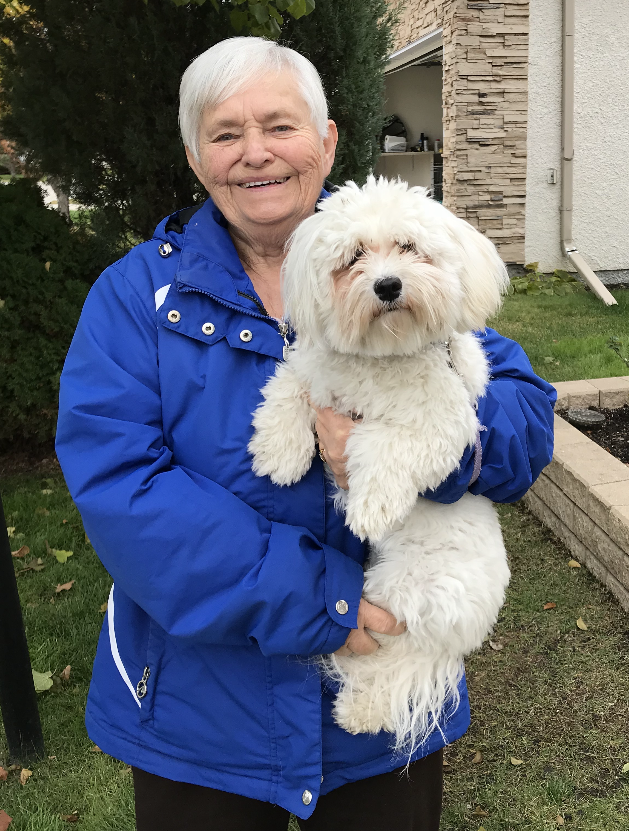 Luba Elizabeth Kosowan
Luba Kosowan passed away peacefully on August 20, 2019 at Concordia Hospital in Winnipeg with her three daughters by her side.
Left to cherish her memory are her daughters Roberta Kula (Jeff), Valerie Perron (Brian), Sandra Christie (Stephen); grandchildren Jessica, Nicholas, Steven, Sara, & Alex; and her fur baby Paton. Also mourning her passing is her brother, Bob Memka (Irene); sisters Sonia Hunnie and Joanne Roberton (George); in-laws Zoria Memka, Nick Kosowan (Lorraine), and Sophie Waltbauer; as well many nieces and nephews. Luba was predeceased in life by her loving husband George; parents Peter and Pauline Memka; and brother Wally.
Born Luba Elizabeth Memka in 1938 in Winnipeg, she enjoyed participating in school athletic events particularly track and field as a child. After she married George in 1959, his job took them to Steinbach where they raised their daughters. Luba and George enjoyed taking the family on trips and to the cottage at Falcon Lake. They were happily married for 34 years until George's passing in 1993. After retirement from Child and Family Services of Eastern Manitoba, she moved to East St. Paul in the Country Villa Estates where she lived for 20 years.
Luba enjoyed many interests and hobbies throughout her life including curling, gardening, travelling, cooking family dinners, taking her beloved Paton for walks, and visiting with family, friends and neighbors.
A celebration of Luba's life will be held on Sunday, September 8, 2019 at 2:00 p.m., upstairs at the East St. Paul Community Club which is located within East St Paul Arena, 266 Hoddinott Road, Birds Hill. A private family interment will be held at Transcona Cemetery.
The family extends their appreciation to the staff at Concordia Hospital for the comfort they provided to our mother Luba, with a special thank you to Nurses Eddie and Corrie.
In lieu of flowers donations can be made to the Winnipeg Humane Society.