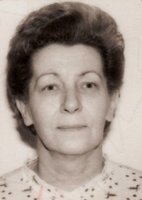 Ruth Wysocki
On September 15, 2019, a beautiful sunny morning, with family by her side our mother passed away peacefully at the age of 85.Mom was predeceased by her parents, Willi and Anna, and her brother Rudi.
Grieving her loss are daughter, Jutta, son, Juergen, and ex-husband and lifelong friend, Gerhard; sister-in-law Hanni (Rudi) and family; half-brother Peter (Elke) and family; half-brother Bernd (Ulrike) and family. Mom leaves behind many nieces and nephews in Canada, Germany, and Switzerland.
Mom was born in Rastenburg, East Prussia on April 8th. She was part of the mass refugees fleeing to Germany in 1945.
Mom immigrated to Canada with her husband, Gerhard, and two young children in October 1958. Like many immigrant women at the time, life in a new country brought challenges but once her English improved, so did mom's job prospects. She worked six years at Rice Sportswear and 19 years at Health Sciences Centre. She was proud of her Canadian citizenship.
Mom was a meticulous housekeeper and loving mother, devoted to raising her children. She was fiercely independent, enjoyed literature by both German and English writers, and was passionate about crime stories and historical fiction.
She enjoyed her travels south, especially Yellowstone National Park, Graceland, Nashville, and Las Vegas. One summer she saw the polar bears in Churchill. She really enjoyed her trips back home to visit family.
At mom's request cremation has taken place and a private gathering will be held at a later date.
Deine Liebe wirdimmer in unseren Herzen sein und du bleibstunsunvergessen. Begrenztist das Leben – unendlich die Erinnerung.