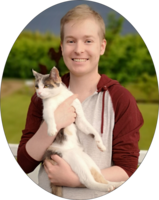 Nicholas Adam Donald Bertram
It is with deep sorrow that we relay the passing of our son Nicholas. His passing comes as a result of complications from cancer. Thanks to all friends and family for support over the years with Nic's fight. We would also like to thank the staff of Cancer Care Manitoba, GD6, and MICU at the Health Sciences Centre.

In lieu of flowers, etc., please join us in one (or more, or all!) of these activities to honor our dear Nic, and to live and celebrate his interests.
Make an appointment to donate blood or plasma.
Upcoming locations/dates for blood drives can be found on the Canadian Blood Service's site, or download the app for your mobile device. Next donation dates for Brandon: Oct. 10th, Oct. 24th, Nov. 7th.
Play a game of Super Smash Bros.!
Nic was incredibly talented at Smash, often taking part in tournaments in person and online, and kicking his family member's butts without mercy.
Read a physics article.
Nic was passionate in his studies of physics, especially astrophysics. Nic also enjoyed the topics of mathematics and other sciences.
Participate in the Canadian Cancer Society's Relay for Life.
Held in May in Brandon, please check https://www.cancer.ca for your area's next Relay for Life event.
Donate to the following organizations:
Canadian Wildlife Federation, to support Nic's love of nature (and, especially, frogs!)
Support Amazon Rainforest relief via Amazon Watch
Thank you for your love and kindness, and your support for Nic throughout his life.
With love,
The Bertram family and friends.