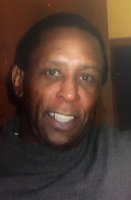 Garves Sylvester Steele
On Wednesday October 16, 2019 our beloved brother passed away. The second eldest of nine children Garves was born in Trinidad and Tobago. He earned a Bachelor of Arts degree in Administrative Studies at the University of Winnipeg. Garves moved to Toronto, but eventually decided to move back to Winnipeg to be closer to family. Garves loved soccer and old school R&B music. In the 70's he was part of the group that started the first black soccer team in Winnipeg called Spitfire. He went on to co-found another team known as Ebonites soccer club.
Left to mourn Garves's passing is his best friend Laverne; brothers Anthony (Janet), Burton(Pam), Mckindley (Lena), Leroy (Sue), and Mevlyn, sisters Ingrid (Ray), and Vanessa (Jason); aunts Jessica Downes and Fredrica Tyson(Trinidad); uncle Albert Mitchell; along with numerous nieces, nephews, cousins, in both Winnipeg & Trinidad.
Garves was predeceased by his parents Ampthill & Lucille, brother Keith, and his aunt Cynthia.
A Celebration of Garves's life will be held on Friday November 1, 2019 at 11:00 a.m. at the Caribbean Community Cultural Centre, 1100 Fife St. Winnipeg.
Rest In Peace Garves, another branch is missing from our family tree ! We love you brother!