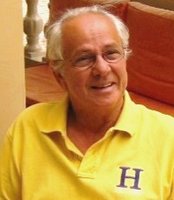 Dr. Clemente Ignacio Rohde
It is with great sadness that we share the loss of Dr. Clemente I. Rohde after a year-long battle with Cancer at the age of 74. Clemente is survived by his loving wife Julia, daughter Viveca (Scott); sons Kenny (Carrie), Steve (Pam), John Paul (Berta) and Justin; Grand Children, who were the apples of his eye, Janine, Tyler, Brittany, Darien, Josie, Hayden, Mae, Yolanda, Paula, Layla, and Mateo; Great-Grand Children Xitlalli and Xavier; Sisters Jenny, Norma, Luisa, and Adela; God-Daughter Emily; and many cousins, nieces, and nephews who he loved very much. He was predeceased by his father Luis Alberto, mother Yolanda, and brothers Pedro and Carlos Antonio.
Clemente was a clinical psychologist, a professionally recognized Special Educator by the Council for Exceptional Children, who served 64 different schools throughout (mostly northern) Manitoba during his 46-year career. His passion was for the betterment of children with psychological issues. In the 1980's, he was the Director of Education for FASINARM where he development programs for children with various mental disabilities. Clemente went on to become Director of Education for Plan International Ecuador where he built schools and libraries for children in impoverished communities. He was the National Director for the Center for Executives in Ecuador. He went on to be a psychologist for the Ecuadorian Air Force where he developed a program to help pilots deal with the effects of PTSD.
A celebration of life will be held at Glen Lawn Funeral Home & Cemetery on Sunday November 17th, 2019 at 11:30AM.
In Clemente's honour, donations can be made to CancerCare Manitoba Foundation: cancercarefdn.mb.ca
Two roads diverged in a wood, and I—,I took the one less traveled by, And that has made all the difference. – Robert Frost