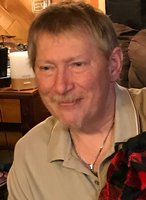 Thomas Beverly "Tom" Orum
On November 9, 2019, Thomas Beverly Orum passed away at the Selkirk Regional Health Centre at the age of 58 years. Left to cherish his memory is his common law spouse Elaine Angus; father Thomas Orum Sr.; sisters Kim Austman (Myles) and Pam; daughters Jackie Traynor (Scott) and Justine; grandchildren Ty, Rider, Dani and Roman; as well as his ex wife Johnna. Tom was preceded by his mother Martha (August 10, 2009).
Tom was born on December 30, 1960 in Winnipeg and attended St.Alphonus and Polson elementary schools, Munroe Junior High, and Kildonan East Collegiate. After graduating from High School, Tom worked at Wilson Auto Electric, Western Grocers Printing, and Canada Bread in Edmonton. Upon returning Winnipeg, Tom worked at the South Beach Casino in security before moving on to the position of team leader at Community Living Selkirk.
Tom loved the outdoors and had a particular fondness for hunting, camping, fishing and trapping. Every fall and winter, for several years, he and his brother-in-law, Myles would set-up trap lines at Tom's property in the Belair forest. Along with Myles, and special friends Bill Grant and Ed Whitehead, Tom embarked on many fishing and camping trips often bringing other family members along for the adventure.
Tom made many friends during his time with us and he cherished each and every one. Tom was person who was willing to help anyone in need and would give a helping hand when ever called on.
The family and partner thank all who supported him during his illness. He was truly aware of the support given to him. To his present employer and staff at Community Living thank you for the support and compassion that you extended to him.
The family extends their deepest gratitude to Dr. Suraj Prematilake for all the care he provided Tom, the staff at the Selkirk Regional Health Centre, CancerCare Manitoba and palliative care nurse, Susan.
In accordance with Tom's wishes, cremation has taken place and a celebration of his life will take place at a future date.
In lieu of flowers, donations in Tom's memory may be made to The CancerCare Manitoba Foundation.
A celebration of Tom's life will take place from 1:00 to 3:00 p.m. on Monday, November 18, 2019 at the Little Britain Community Club, 571 Little Britain Road, St. Andrews, Manitoba.
A memory book will be available for anyone who would like to share their favourite memories of Tom. The book will be shared with his grand children.
Thank you for all the condolences, and kind word of encouragement sent to his family and Elaine.