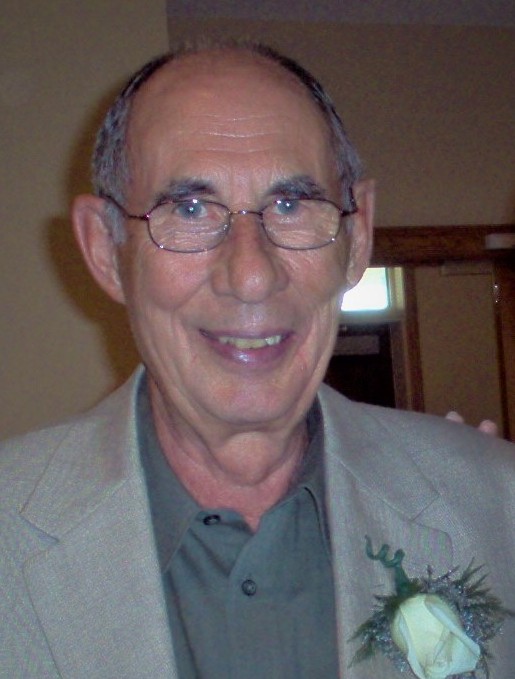 In Memory of
Clare Bell
1930 - 2020


Obituary of Clare Bell
After almost 2 years in Donwood Manor PCH, with family by his side, Clare passed away peacefully at the age of 90. He was born in Carman, MB, the eldest of three children, born to Clarence and Ethel Bell. His early years were spent in his parents' home on his grandfather's farm in Homewood, MB. His introduction to our education system was Garnett School, a small one room schoolhouse. When he was 8 years old the family moved to Winnipeg, where he attended a number of schools and graduated from Gordon Bell. As a youth he spent many happy summer holidays with his cousins, the Coleman's in Manitou and the Lowry's in Altamont. He was a member of the Army Cadets and a member of Knox United Church, including the young people's group. He was also part of the basketball team known as the Knights of Knox. He enlisted in the Naval Air in 1951 and was stationed in Shearwater, NS. In 1954 he transferred to the airforce (he heard the food was better) and was posted to Winnipeg. He completed his term in 1957 with the rank of Aero engine technician. He worked in several fields, including Bristol Aircraft Industries and Firestone, but his last and most rewarding career was with the Investors Group, first as a sales rep then as manager of career development. He held training schools in Winnipeg and in Investors' regions across Canada. He enjoyed the travelling and all of the salespeople that attended the classes, but his favourites were the province and the people of Newfoundland. Clare was predeceased by his parents, his grandson Michael Mooney, his brother and sister-in-law, Glen and Elizabeth Bell, his brother-in-law Henry Penner, cousins Bill, Hawley and Don Lowry and by two special members of the family, Lady and Pepe. Left to cherish his memory are his wife Donna; daughters Debbie Mooney (Patrick) Susan Holschen (Herman); son Norman (Ronda); grandchildren Bill (Nadine), Steven (Olena), Samantha (Kevin), Amanda and Chris; and great grandchildren Paige, Owen, Austin, Eva and Jade. He also leaves his sister Donna Penner, sister-in-law and brother-in-law Beryl and Lyle Allan, several cousins and a number of nieces and nephews. Clare and Donna met in 1952 at a Knox young people's meeting while Clare was home on leave. The courtship was then managed by Canada Post. They married on Sept 10, 1954 and had 65yrs together. Over the years Clare belonged to a number of clubs and organizations. 215 Legion in East St. Paul, a member and past president of EK Lions, a member of the Lorette golf club, member 001 of Netley golf club, Transcona curling club and the social group C.N.A.G. (Canadian Naval Air Group). Clare has always enjoyed and been active in many sports such as basketball, bowling, pool, curling, golfing, bicycling, maneuvering his sailboat on Lake Manitoba, then the powerboat on Netley Creek and exploring Netley Marsh on the way to Lake Winnipeg, pulling whoever wanted on water skis or tubes. Fishing has also been a long-time hobby and he especially enjoyed the fly-in fishing trips with his Lion friends. In later years watching and identifying birds became an interesting and calming way to pass time. During his stay at Donwood, Norman made him a beautiful stand to hold two bird feeders. Clare spent many quiet and contented hours watching out his window where he saw many birds but was still excited to see even a sparrow. Thanks Norm. For a number of years, the Bells and their Silverliner trailer could be found every summer weekend and during their holidays in a lakeside campground anywhere in Manitoba or Ontario. They also enjoyed some longer trips to BC and Yellowstone. Eventually the trailer got too small and the kids got too big, so it was traded for a cabin at St. Laurent on Lake Manitoba then ten years later we moved to Petersfield on Netley Creek and turned our cabin into our retirement home. With curling, golfing, fishing and boating it was a good life. Clare was a man of few words but a strong advocate of fostering "Great Expectations". He believed in honesty, hard work, having a goal and expecting people including his family to do the best they could, to learn and to accept how to handle responsibility. He believed a person should not expect material rewards from others, but to reward themselves with a sense of pride of accomplishment and the knowledge of what they were capable of achieving. He expected that everyone should know the value of families and be prepared to give what was needed to protect and preserve them. This legacy he left gave him a sense of pride and comfort knowing his children had accepted these values while creating their own families and are now passing them onto their children. He probably didn't tell you often how much he loved you (he expected you to know) and that he was so proud of the lives you were living and the example you were setting for your children. Know that you all filled his "Great Expectations". Clare had three very special past times. One was taking a break from Manitoba winters, which started with 2 weeks in Hawaii and many years later ending with three month trips to Oysosis, BC. In between was Mexico, Arizona, Florida and Texas. The second was Saturday lunch at the Curtis with Henry and some of the Lion boys. The third was dropping in to see Herb, Vic or any number of his Norwood friends. His interest in sports expanded as the grandchildren got more involved in some new varieties. Soccer, paintball, hockey, motocross racing, car racing, quading, snowmobiling, dancing, skating on the creek and Norman's pond, cross country skiing, tubing behind a ski-do on Netley Creek in the winter and enjoying swimming and paddle boating in the summer. A special treat was to have a game of golf with his grandchildren. Time and visits from the great grandchildren were very special. Their energy, their excitement and their own special personalities brought a big response and a big smile to Clare's face and made him feel that he was still a small part of this world. Thanks from Grandpa Great. To Clare, now is the time to look for another Trophy Trout, to work towards achieving an elusive 8-ender and to practice until you get a magical hole in one. Until the next time when "We'll stroll hand in hand again" know that you were loved and that you will be missed. Also know that death leaves a heartache no one can heal but love leaves a memory no one can steal. Your loving wife and partner, Donna Cremation has taken place. There will be no formal gathering and there will be a private interment at a later date. Special thanks to the nursing staff, the health care aids and the activity staff at Donwood Manor. In lieu of flowers, donations may be made in his name to a charity of choice.


Share Your Memory of
Clare
Contact Us
(Just a few seconds North of the Perimeter on Henderson Hwy)
Fax: (204) 505-4491
Have a Question?
We understand that there are many questions that arise when a death occurs. We are available 24 hours a day, seven days a week to answer questions you may have and provide direction. Please call us if you require immediate assistance.