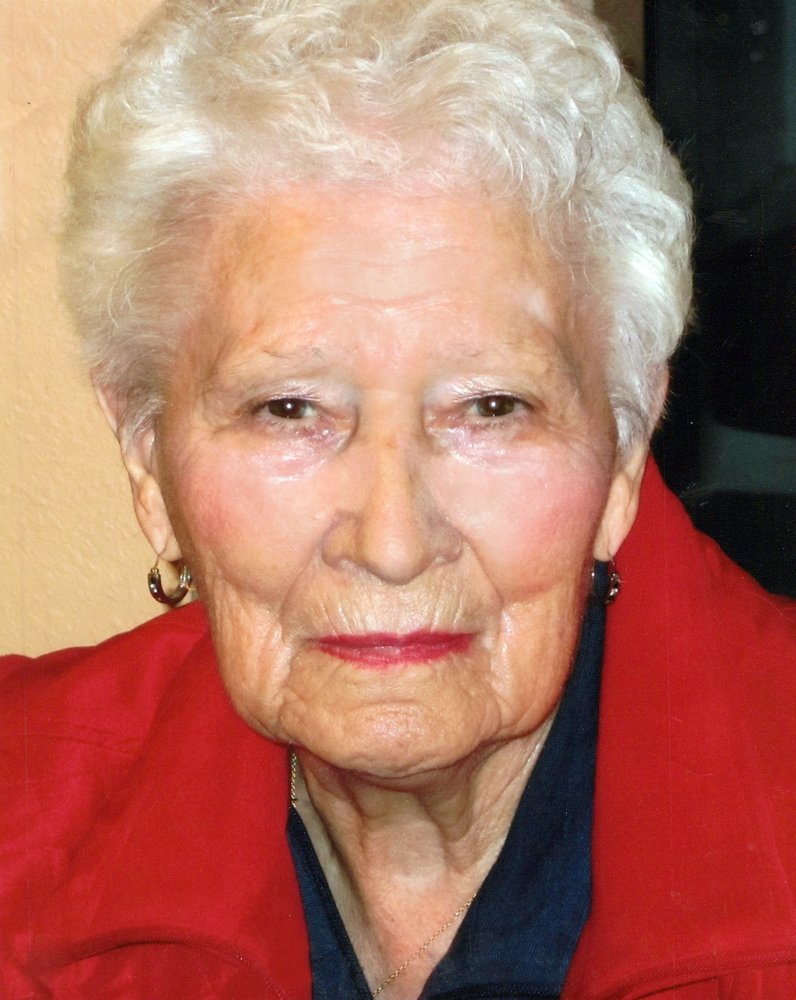 Obituary of Nellie Rogocki
God was ready, you were ready, but we were not yet ready to say goodbye. It is with immense sadness that we announce the passing of our dearest Angel, our Mom, baba, great baba, mother-in-law and friend who passed from this world into the loving arms of our Savior Jesus Christ on January 23rd, 2021 just 2 ½ months shy of her 97th birthday. Mom was the last surviving member of the Joseph Zdrill family. Now they are all together. Mom wanted so badly just to talk to her sisters again whom she missed so much, especially Rose. Mom was born in Allegra, Manitoba on April 12th, 1924 to Joseph and Jessie Zdrill who both immigrated from the Ukraine in the early part of the 1900's. Mom was predeceased by her beloved husband Stanley of 63 years in 2008; her mother and father; her five sisters and brothers-in-law Helen Tymko (Mike), Mary Rogoski (Joe), Rose Woligrocki (Harry), Stella Pocaluko (Andrew), Caroline Kabaluk (Nick); her brother Walter (Stella) and daughter-in-law Patricia Rogocki. Mom's dad passed away when Mom was only 13 years old and all the girls had left home by then. Mom stayed with her mother and her brother on the farm which was extremely hard since her brother Walter would go and cut cords of wood during the winter and Mom would stay with her mother and do all the chores. But Mom being the trooper she was, took everything in stride and they survived many winters. While living on the farm she met our Dad who was a force to be reckoned with. A real lady's man, but in the end Mom won his heart like she did with anyone who got to know her. Life was not easy for mom and dad. After marrying Dad in 1945, they had 4 children, Angie, Bernie, Allan and Betty who were all 13 months apart. Life on the farm was too hard to make a living so they moved to Winnipeg on Montrose Ave in East Kildonan which is called Nottingham Avenue today. There was no sewer or running water. They would have to carry water from the communal pump at the foot of the street. But Mom adapted. After Dad became a floor finisher and started a business it was hard to find people to work. Well Mom being Mom, asked Dad if he would take her on the job and show her what he does. Dad was reluctant but in the end Mom won, as she always did. She went on the job and became the best floor finisher there ever was. After doing that for many years, Dad built our home on Castle Ave and build a beautiful family cottage on Falcon Lake which was in the family for 62 years. Mom and Dad then went on and built three more cottages at Falcon Lake. Mom nailed many nails in all those places and cleared lots of brush. After Dad changed jobs and began finishing houses (which today his son Bernie is still head of the business), Mom started cleaning new homes for all the big Home Builders. They all thought the world of her and became close friends. Many dinners were had at Falcon Lake with them. In between her jobs, she helped raise her two oldest granddaughters Shelley and Shauna at home and at Falcon Lake. Then Mom retired. Dad retired shortly afterwards due to health reasons. They moved into Concordia Village. Dad passed away 2 years later and Mom stayed there for another 10 years before suffering a severe fall and then Holy Family Home became her new home. Mom was the best cook. She would invent the most wonderful dishes. She made the best perogies, holopchi, apple and raisin pie. She could can anything especially wild mushrooms and peppers which was a favorite of our family. She was just the best all around cook and baker. She was also the best mother that anybody could ever have. Up to age 96 when we came to visit her at Holy Family Home, she would always say phone the nurse and tell her that you got home okay and they will come and tell me. Mom's favorite pastime was the casinos. How she loved them especially the double diamond slots. She was very fortunate to have travelled to many casinos as their daughter Betty and son in law Gary would take Mom and Dad in their motorhome. I don't think there was a casino Mom wasn't in. Up to the age of 93 Mom enjoyed going to Arizona for the winter with her daughter Angie and son in law Roly and of course we found casinos for her there. Mom was also very fortunate to have travelled to Europe twice which also included visiting Poland and Russia. Those memories will stay with us forever. Mom is survived by her four children Angie (Roly), Bernie (Marcia), Allan (Rita), Betty (Gary); her six grandchildren Shelley (Mike) Shauna (Allan), Daniel, Tamara (Craig), Adam (Lira), Ashleigh (Yoann); her six great grandchildren Kiley, Evan, Leive, Orphea, Charley and Xander; her two step great grandchildren Brennan and Jordyn; and her adopted daughter Jackie. Mom's love for her children, grandchildren, great grandchildren was immeasurable. She loved us all so very much and was so proud of us all. She is also survived by many nieces, nephews and friends. The family would like to thank all Mom's care givers at Concordia Village. Also a big thank you to Holy Family Home and all the wonderful nurses and health care aids who took such wonderful care of our Mom. You are the best. Mom wanted very much to thank her daughter Angie who took care of everything she needed and especially staying with her when she was very sick in the hospital and in the care home. Mom it was a privilege to look after you, maybe I paid you back just a little. When you left, part of my heart went with you because you are my heart which I told you many times. We all love you to the moon and back and then some. One day we will all be together again as God calls each one of us home. Until then, give Dad a big hug from us. Now Mom open those beautiful eyes, you can now see, hear, and walk everywhere in your new Heavenly home with your family until we see you again. Mom will be laid to rest beside her beloved husband Stanley at Green Acres Cemetery. There will be a private family service as this is what mom wanted. Flowers are greatly declined. Friends and family wishing to honour our Mom can make a donation to Holy Family Nursing Home, Siloam Mission or a charity of one's choice. May our Mother, Baba, Great Baba Rest in Eternal Peace. Vichnaya Pam'yat - Eternal Rest Goodnight my Heart Oh my beautiful family, I just arrived and everyone was here to meet me. What's that I see, are those tears? Please do not cry. I have no more pain. I am finally at peace and I am happy. I will never be far away from you because I'm in your heart and you are in mine. Please live your life with happiness and one day soon we will all be together.


Share Your Memory of
Nellie
Contact Us
(Just a few seconds North of the Perimeter on Henderson Hwy)
Fax: (204) 505-4491
Have a Question?
We understand that there are many questions that arise when a death occurs. We are available 24 hours a day, seven days a week to answer questions you may have and provide direction. Please call us if you require immediate assistance.