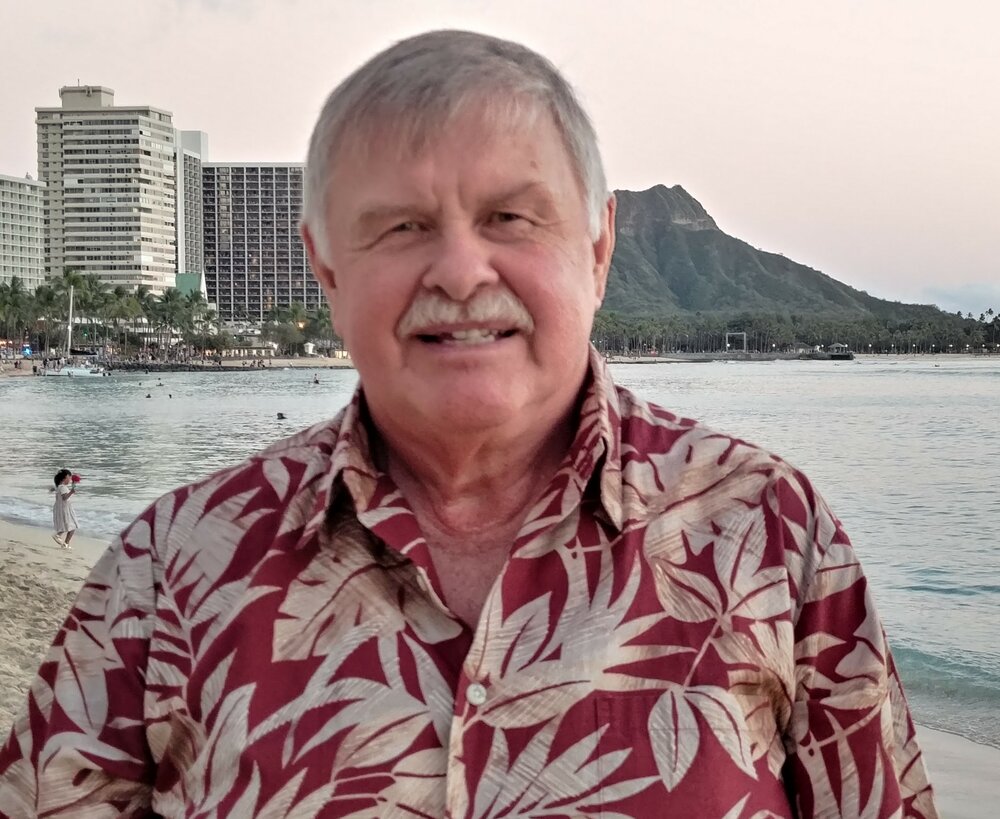 Obituary of Glenn Davis Maddaford
With great sadness, we announce the sudden and unexpected passing of our beloved Glenn Davis Maddaford. Peacefully, with his wife, Charlene and family by his side, Glenn passed away at St. Boniface Hospital on Good Friday, April 2, 2021 at 67 years of age. This tribute to our dear Glenn was not posted sooner as it has been so difficult to find the right words for such a special man and soul mate. For all of those who knew my dear Glenn, you know we can hear him dismissing those words but still showing his appreciation of course with that great smile of his and a small squint of his eyes. Glenn and I, along with the rest of the family can't thank all of you enough from former staff/colleagues over the years, friends and of course family for reaching out over the last several months, showing all of us your care, and reminiscing with your stories of times with Glenn. They say "The measure of a man is the lives he's touched." Glenn leaves us a very successful legacy and memories that no one can ever take from us. This is how Glenn will continue to live on, through all of us that he touched and crossed paths with. Glenn will be lovingly remembered and forever missed by his wife and best friend Charlene Koniak; sons Brian and Kevin (Lisa); brother Brock (Janice); niece Lindsy Pearson (Dustin and family); and nephew Kerry. As well as Aunts Glennys Propp and Lynn (Dave) Wrishko and Phyllis Lawrance both from Saskatchewan. In addition, Glenn had many cousins, so many friends and we were blessed with such kind neighbours. Also holding a special place in their hearts for Glenn and he with them, are his in-laws, Brian and Irene Koniak, as well as "Babas" (Mary Koniak and Helen Janicki). Glenn's mom, Bernice (Rae) Maddaford sadly passed away six days after Glenn on April 8, 2021. And then, on November 17, 2021, Glenn's dad, Harley Davis Maddaford joined them. Glenn was also predeceased by his brother Gerald (Gerry) Maddaford on April 9, 1993. Although we miss all of them dearly, we find comfort in them being together again. Glenn was born in Yorkton, Saskatchewan and moved from Saltcoats, Saskatchewan to Winnipeg, Manitoba with his family at the age of three. Early in life, Glenn demonstrated his interest in sports, numbers and people. Although Glenn would be the first to say, along with some of his teachers, that school for him wasn't just about the learning, as it was being with friends. Even though one of Glenn's many skills and attributes was his interest to learn new things, researching new technology and staying on top of other issues of the day. And he always encouraged his family and friends to pursue their education and learn new things. Glenn was always the "go to" person whether at work or amongst family and friends to help "figure things out". Glenn's love of people included spending time on the family farm as a child in Saskatchewan during the summers helping his uncle on the farm and playing with his cousins. Many family memories with his Aunts, Uncles and cousins are forever cherished to this day of those times. Glenn (or "Maddie" as many of his friends/colleagues referred to him as) also made many friends over the years, at work, through playing sports and through family. Glenn's sense of humour, wit, care for people and willingness to help everyone made him have many life-long friendships that he cherished and always looked forward to spending time with family and friends. Besides his love of people, Glenn also loved animals – dogs, hummingbirds and horses to name a few. Glenn was known to often pack "treats" for his dog friends that he loved to share. Glenn led a valiant eleven year journey with Thyroid Cancer, which included three major surgeries. We would like to thank Dr. R. Nason for his genuine care, and support over the years, along with the team at CancerCare Manitoba. Special thank you to our "heroes" Leah and Lianne, nurses from HSC H5 (and their team) who saved Glenn's life a few days after his last surgery (January 2021). And a thank you for the dignity, compassion and care of Dr. O. Mooney and the team at St. Boniface Hospital ICU. Glenn completed his Computer Analyst/Programmer Certificate, Education Program for the Association of Assessing Officers of Manitoba and then pursued his Certified General Accountant (CGA) Certificate evenings/weekends while working daytime for the City of Winnipeg and raising a family. Glenn started as a Clerk A/B in the Water and Waste Department, worked as an Assessor, an Auditor, and for most of his almost 39 years with the City in progressive accounting roles in Corporate Finance, Social Services and then ending his career in the Community Services Department. As best friends and true soul mates, Glenn and I were blessed to have found each other. So few ever find in their lifetime that special love and relationship, as we shared. No years would have ever been enough for us. My Glenn, you are the sun to my shine and always will be! Glenn was also very proud of his sons, Brian and Kevin, and loved them very much. Anyone that knew Glenn will recall him speaking about his other "love", Hawaii. We took annual vacations to "our happy place" and looked forward to many more visits in the future. Glenn loved everything about Hawaii and always looked forward to the opportunity to educate anyone who was thinking of going there to visit and wanted to learn more. Glenn also enjoyed sports, which was another interest that both he and I shared as well, along with his sons Brian and Kevin. From the Winnipeg Blue Bombers, Winnipeg Jets, Toronto Blue Jays, or other games, it involved watching them on tv, attending games in person or getting to talk about them with each other, family or friends. He played hockey as a young guy, growing up in what he always called "the North End" and continued playing in a lunch-hour league as an adult at work for many years. He coached (Football) as a young man, spent time with friends watching horse racing at the Downs and curled until his mid-50s. Glenn had the opportunity to represent Manitoba as a member of the 1973 Winnipeg Strathcona Champions in the International Junior Curling Championship with the team finishing in 3rd place. As a dedicated father, Glenn was an active spectator of his sons' sports and even coached several of their teams. East St Paul has also been special to Glenn and was his home for many years. As a family, raising his sons for most of their school years and only leaving briefly to Winnipeg, before returning back to build our home and continued till his passing. Glenn also had developed a true care and concern about the environment and was concerned for future generations. From geothermal to purchasing a hybrid vehicle and planting trees or flowers to support climate change, Glenn was looking forward to further opportunities to make a difference with our footprint we are leaving behind. Glenn will be dearly missed as he has touched so many hearts. As per Glenn's wishes, cremation has taken place. Due to COVID restrictions, a Celebration of Life will occur in the future. In line with Glenn's style, he would be thankful for your time to remember him and cherish your memories together and would not be expecting something in return. That would be gift enough. For those that wish to make a donation, please consider Cancer Care, one of the local environment/climate change organizations, or another charity of your choice. Most importantly, in honor of Glenn, consider "paying it forward", as he so often did. Take the extra time in your day to spend with a family member or friend that needs some extra support, do a kind deed for someone you know or a stranger, or plant a tree or flower that will impact our environment. Giving, in memory of Glenn, doesn't have to be financial, it can be from the heart, as Glenn always did his best at and touched so many through his kind nature. We leave you with one of Glenn's favorite words to live by, and one from all of us back to him. Aloha and A Hui Hou (Hawaiian for "Until we meet again")! Aloha means welcome; what I have you may have, share with me. Loko maika'i means what I say comes from my heart; I have good intentions. Olu'olu means happ; happy doing for others, a Hawaiian heritage. Ha'aha'a means humility and meekness; we are happy to serve. Aloha means love; near or far, you are always in our heart.


Share Your Memory of
Glenn
Contact Us
(Just a few seconds North of the Perimeter on Henderson Hwy)
Fax: (204) 505-4491
Have a Question?
We understand that there are many questions that arise when a death occurs. We are available 24 hours a day, seven days a week to answer questions you may have and provide direction. Please call us if you require immediate assistance.