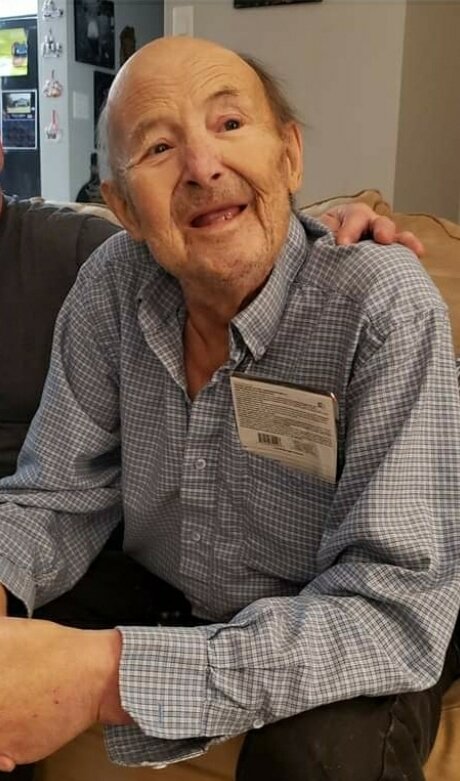 Obituary of Herold Tschetter
Please share a memory of Herold to include in a keepsake book for family and friends.
On January 17, 2022, peacefully at home, surrounded by the sounds of his family getting ready for the day, our dad and grandpa, Herold Tschetter, age 73 years, left this earth. Surviving to mourn his loss, his children Donna (Stephan), Michael (Cheryl), Richard; grandchildren in order of age, Brayden, Tyler, Kaylee, Alex, Leah and Emily; his mother Rachel Tschetter; and many brothers and sisters - Joseph (Donna), Sam (Marcia), Mike (Wendy), Arthur (Laurie), Gary (Laura), Sarah (Wayne), Marion (Jason), Margaret (Brian), Katherine, Elaine (Willy). Herold was predeceased by the love of his life Frieda; his father Joseph; and his brother Ernie. Sitting down to write an obituary for a man like our dad is as vast a job as the compass that he was. He was who he was, that's one thing for sure. How to sum up the life of our dad. "He was this or that or was amazing or wonderful or hard headed or impossible or passionate and fun and loving and musical and bright and sunshiny or mischievous or adventurous or charming or any of these things…." The truth of the matter is, he was a ONE-OF-A-KIND, and they broke that mold the moment he entered this world. Dad's version of what his obituary should be was something along the lines of "I lived, I died, what more is there to say. That's it.", "When it's our time to go, none of us are going to want to do it anyway." He was a big believer in the idea that when it is our time, it is our time. I wished that we could have one more day with him, but it occurs to me that we were gifted an additional three years with him already. Three years that saw us through to the last night he was with us. Reflecting on this evening, he had a peacefulness about him that we only ever prayed he would experience in this lifetime. What a beautiful gift this was for all of his kids and his grandkids and his beautiful mom. He was so many things to so many people. One thing he wasn't was a person to sugar coat anything, even when we thought a bit of sugar may have helped. He liked honey anyway. Thick and complex and a gift in so many ways, but also just loved the simple sweetness of life. A man who no matter what, always stood up for what he believed and for what he thought was right, no matter what the popular opinion was, he didn't waiver. He knew every emotion and he never hid any of them. He never hid his struggles from his family, from his kids. We were able to learn from his struggles, as we learned from his wisdom and his view of the world. My dad did not tell us what we wanted to hear, and he would never never never stand up for us if he knew we were wrong or had done wrong. He made sure we knew where we stood with him and through it all he was such a proud dad and grandfather. He was loving and a rock for us, even when he felt the world was crumbling around him. He adored us and we adored him. He taught us spirituality in his very own way without the confines of walls and made sure we knew you need only go directly to the source of life. He knew that if you ever doubted the existence of a higher power, the existence of God, that you only need step outside. Look up, look at the trees, the breeze that moved the branches, the intricacies of the flowers and the birds and every little bit of beauty that surrounds us. There is no way this all came from nothing, was what he always said. He was born hutterite. He left the colony as a teenager for adventure, for an escape, for work. His travels brought him all over Canada and the U.S. He would go from town to town by bus, hop on the backs of trains and hitchhiking. He would stop, find a job, gather enough money and carry on. He told us stories of fast cars, questionable choices, and a belief in God which he worked so hard to understand. He told us stories about working for a peanut farmer in Georgia where he learned that peanuts grow underground, not on trees, how he worked for the City of Calgary and on the DEW Line up north, how he found small towns and little lost diners, and met all kinds of strangers he would easily have a deep conversation with. The stories from his brothers which talk about how dad would return from up north with his portable record player and collection of records that sparked a love for music that has lasted to this day. He loved having a good time and explored the beautiful world on his terms. Adventurous, mischievous, charmer, flirt, lover of music, his homemade wine and moonshine and above all, his family. A family which settled him down and brought him home. He built a life and a family with the love of his life and the time was good, full of celebration and love. Herold and Frieda were good together and meant everything to each other and were still learning what that all meant. They built their family and welcomed Donna and Michael. Tragically, we lost our mom early on, something that caused our dad heartache and suffering for a very long time. An event that shaped so much. But as in life, there is beauty in death, there are lessons to be learned and there are new beginnings to find. Through it all we found ourselves with new loves and new experiences, the biggest one being the blessing that is dad's son and our little brother Richard. Dad adored him and we know nothing else leading to him could ever be changed, and he completed our family. The rest is water under the bridge of life. Lessons, heartache, injustices, but love, appreciation and reflection throughout. Being a dad was so so important to him. He was the dad that laid down on the floor to play, built sand castles, built lego towns, taught what he knew, shared his passions, was also open to a chat or discussion anytime. He could discuss the meaning of life, God, politics, world events, the state of the world, the education system, parenting, love, loss, music, weather….pretty ladies and cute kids. There was never a loss of words with our dad. He was a hard worker who whistled and sang while he worked. He worked at CN rail, in construction as a concrete finisher, ran his own concrete business for a time and worked for the City of Winnipeg as a foreman for insect control until his retirement. He planted gardens and hosted dinners for his kids. He loved to cook and always stayed close to the traditional foods and favourites he grew up with. Beans and bacon, sauerkraut and sausages, chicken and dumplings, borscht and kneadle, but nothing beat a big steak dinner as the winter snow melted away. When his kids became parents, he told us that we need to realize that our life is no longer our own. That our life is now for them. That we never leave their sides. Even when there are times which cause you to be apart, they are your heart. You never take their sides when they are wrong. You tell them you love them every single chance you get. You build your values and your morals and you stick to them. You make the mistakes and you pick yourself back up and you do better. A life that brought such a rollercoaster of experiences all summed up comfortable and living in a home with daughter Donna and her husband Stephan (who dad loved like his own kid), grandkids Kaylee, Alex and Leah. He had been suffering with health issues and it was apparent that he could no longer live on his own, and the best choice for everyone was to have dad move in with us. We made the choice so that we could ensure he was properly cared for and had everything he needed for his health to improve. It didn't occur to us at the time that he would end up being the one taking care of us. He learned everyone's favourite drinks, snacks, foods and regularly stocked the cupboards, freezer and fridge. We had to build a pantry room to contain everything he brought home. He was a collector of PC points, drove around the neighbourhood in his little blue car, with his little cap and cool sunglasses, listening to his music. Driving by the houses and workplaces of the family and people who meant the most to him, just to make sure everything was in order, and he'd continue on his merry little way. Going for his morning coffee, doing his errands and was often seen scooting around Superstore, finding the deals, collecting the points. He insisted on picking up the kids and driving them around. He had a room with patio doors looking out into the yard, with his deck all decorated with the flowers (snap dragons and morning glories in all colours were his favourites) and tomato plants he enjoyed so much, feeding the birds and keeping them coming back. He hung wind chimes and enjoyed the sounds, something that interestingly enough brought me some peace, the wind speaking back in the early hours of loss that will bring a smile to my face for all of my life. He was able to connect with our student Zach from Vietnam who has lived with us for four years, an unlikely pair, someone who grew to think of dad as his own Canadian Grandpa. A shout out to all of the friends and students and people who just always loved my dad throughout my life. Friends who always told us we had the 'best dad ever' or 'such a cool dad', who always engaged all our friends and got to know them. We'll see you dad and think of you down the #12, over the bridge and left on the old farm road or just cruising through the neighbourhood … a cool little grandpa. We will continue to live on but as you told us, we will miss you when you're gone. You were so right, but you put enough sense in us to know life goes on. We will ensure to live our lives in such a way that makes ourselves proud, makes you proud. We love you dad and not for one second in our lives would we have ever changed who our dad was. I will miss going into your room to talk, to ask for advice, to ask gardening advice, cooking advice, parenting advice….all of it. We love you with all of our hearts for all of time. You fought the good fight, dad. We are so proud of you. He was a man with imperfections, but he loved perfectly and was perfectly loved. "Even though there may be times, it seems I am far away, never wonder where I am, 'cause I'm always by your side." A verse from The Power of Love, a song he blasted from his room, the melody filling our home….his favourite version by Helene Fischer. We know you're all around us and we will miss you all of our days. A scattering of ashes and celebration of life will follow at a later date, to be announced. Dad's Play List Red River Jig - Andy Desjarlais Candy Hearts - George Jones Mama Tried - Merle Haggard Honky Tonkin' - Hank Williams White Lightening - George Jones King of the Road - Roger Miller Good Times - Niko Moon Singing in the Kitchen - Bobby Bare Luckenbach Texas - Waylon Jennings Man In Black - Johnny Cash A Boy Named Sue - Johnny Cash One Piece at a Time - Johnny Cash Yonder Comes a Sucker - Jim Reeves The Race Is On - George Jones He Stopped Loving Her Today - George Jones Blueberry Hill - Fats Domino Livin on Love - Alan Jackson When I Need You - Leo Sayer Total Eclipse of the Heart - Bonnie Tyler I Heard The Bluebirds Sing - Hugh P and Maria (You Tube) The Power of Love - Helene Fischer (You Tube) Old Log Cabin for Sale - Porter Wagner I Saw the Light - Hank Williams Whispering Pines - Johnny Horton Take Me Home, Country Roads - John Denver One More Day - Diamond Rio Go Rest High On That Mountain - Vince Gill Here Comes The Sun - The Beatles


Share Your Memory of
Herold
Contact Us
(Just a few seconds North of the Perimeter on Henderson Hwy)
Fax: (204) 505-4491
Have a Question?
We understand that there are many questions that arise when a death occurs. We are available 24 hours a day, seven days a week to answer questions you may have and provide direction. Please call us if you require immediate assistance.