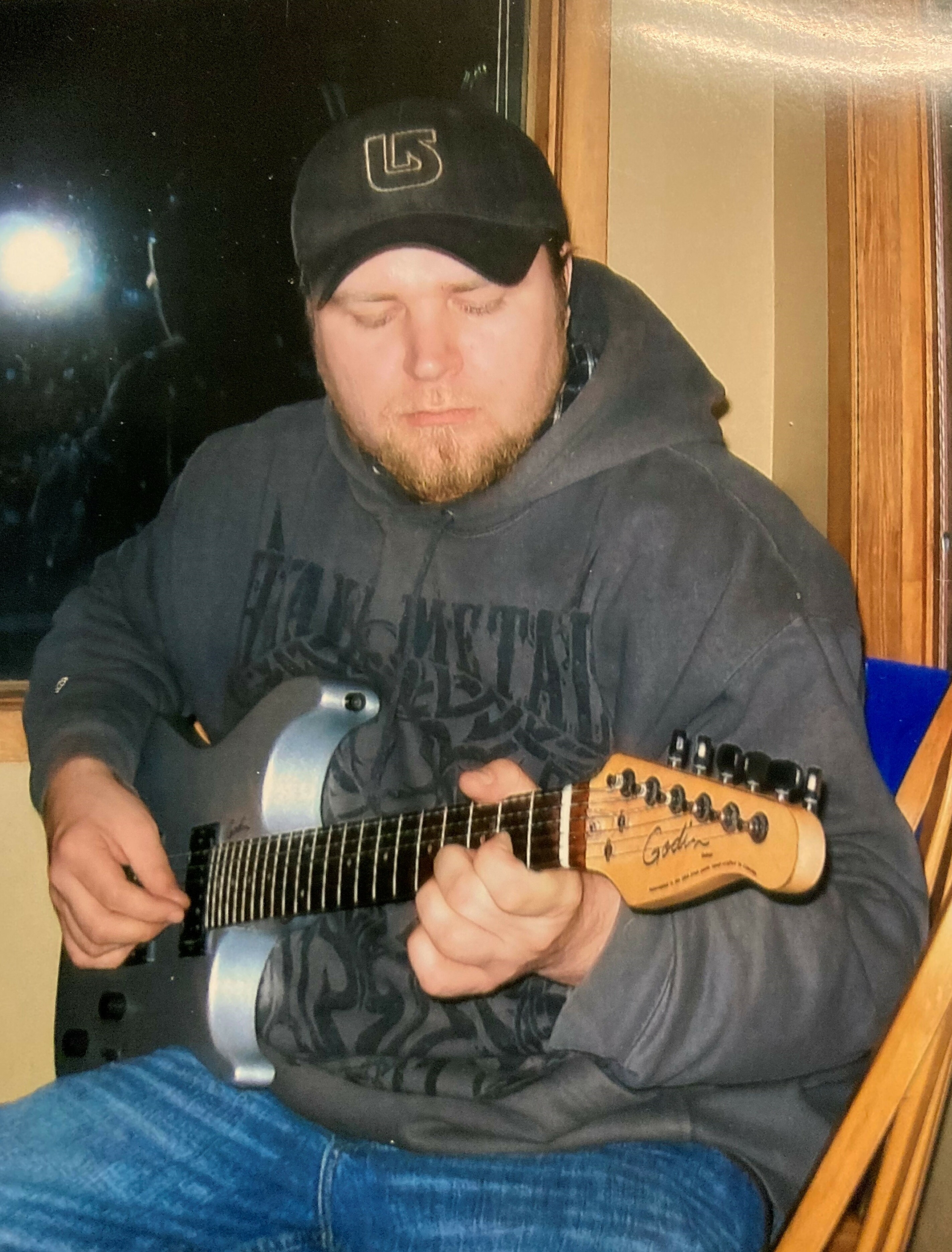 Obituary of Steven Tyler Nicholas Rodgers
Please share a memory of Steven to include in a keepsake book for family and friends.
Talented, artistic, musical, creative, funny, bomber fan, loved are just some of the ways Steve would be described. He was born in Winnipeg on Saturday July 31, 1982 and passed away on Sunday January 16, 2022 at the age of 39. Mourning Steve are his beloved son Blake; his parents Dave and Susan; grandmother Ruth Bylo; sister Wendy Rodgers; brother Jason Rodgers; and sister in law Lindsay Dandeneau. He will be remembered fondly by Susan's five sisters Lori (Bruce), Linda (Larry), Shelley, Kathy (Gord) and Karen. He will be missed by his wonderful cousins and their spouses Kelly (Claude), Robert, Jeff (Adriene), Corey (Amanda), Lindsay (Colin); and his cousin's children who got to know Steve when he lived in Ile Des Chenes. Also missing Steve will be Dave's brothers Barry (Brenda) and Jeff; as well as the numerous friends that Steve made throughout his life. We loved the messages we received from his cousins that remembered all the fun they had with Steve. From the bottom of our hearts, we thank everyone who reached out to us with their kind words of sympathy, support and understanding. Steve grew up and attended school in Windsor Park where he developed his love of bowling and baseball. Countless hours of Steve's childhood and early teen years were spent at the bowling alley with his Dad proudly watching and coaching his son and taking him to numerous tournaments where he regularly placed in the top three. He also enjoyed baseball in his younger years. Steve's other biggest fan was his beloved Grandma, who always had a special place in her heart for him. Grandma was quite involved in the MTS bowling league and regularly picked up Steve in her "dogmobile" to come spare with the adults. The MTS bowlers also nurtured and helped Steve hone his skills. Steve also enjoyed playing golf with his Dad and talking about sports. We are so grateful and thank everyone who tried to help Steve over his lifetime. He packed a lot of crazy adventures in his short life. He once made it to Mexico to attend his friend's wedding but due to miscommunication he didn't have hotel reservations and slept on the beach until that was corrected. He loved that trip. Steve's son Blake Benoit was born in 2004 and it was the proudest day of Steve's life. He was working full time, he had a relationship with Blake's Mom Jen. They lived together for awhile but eventually bad decisions took their toll on the relationship and they separated. We strived to keep Steve in Blake's life as often as we could as we knew how important that was for both of them. Dave and I are so proud of Blake and so thankful he is part of our lives. We see the best of Steve in his son and thank everyone for helping Blake as he comes to terms with this. We especially want to thank Jen, Jamie and Brad for all they have done. Steve's troubles prevented him from regular employment, but he had several good years with Canada Inns – Windsor Park, WRHA, Winakwa Community Center, Carlson Industries, as well as Goodwill Industries. He also worked at Alberta Park Services in the summer of 2012. Steve was always known as a quiet, hard worker and his co-workers enjoyed his personality. He also worked part time for many years with St. Louis Center where the ladies were surprised that he could respond to them in French. So many times over the years, we thought Steve was back on the right track. In 2016 he was enrolled at RRCC Administrative Assistant Program. He had perfect attendance and graduated with honors. He had a practicum with the City of Winnipeg where he did very well but that department wasn't hiring at the time. Sadly, his attempts to move forward were slipping away as the demons dragged him in once more. As an adult, Steve lived with us on and off numerous times. It gave Dave and I peace of mind to know that he wasn't on the streets and had regular meals to eat and a place to sleep. It helped him detox and rest, but at some point the addictions always came calling and drugs were unfortunately far too easy to obtain. Every time, he slipped further down the rabbit hole and in March 2021 Dave and I realized how powerless we were to stop this destructive path he was on - we knew by then the inevitable was coming, but it still didn't prepare us for the day that the police came to the door. Everyone has been doing the what ifs, but we realize that is pointless. Everyone had tried many times. Addiction is just too strong an enemy. We will probably never know what came first - mental health (likely starting with anxiety) or if the drugs harmed his young developing brain, but they are so intertwined. No one chooses mental health issues. Sadly, Steve found that substance abuse could take his pain away (for a while anyway). He cycled through various types of addictions and they were his means of escaping the pain of what was going on in his life. Even though he was approaching 40, to us, we were always dealing with a teenager. He just couldn't adult for any length of time. We got him in many programs over the years starting with AFM in his teen years, MATC Community program, A school on Archibald for teens who were struggling, doctors, hospitals, psychiatrists, Most recently Dave had taken Steve to the RAAM program at HSC and he was being scheduled to go to Thompson for treatment... The tiny window of time an addict is open for treatment never seems to line up to when a spot/bed is open. His friends also tried to get him into RAAM recently but at that time, he didn't have photo id or a medical card and was turned away. We need to fight for more treatment and lower barriers. 90% of the people that have reached out to us have told us about someone in their circle who is (or was) also struggling with addiction. Some have already passed away much younger than Steve. This is an epidemic and so much more needs to be done. We are thankful for the organizations that are fighting for change and more treatment space. Steve will be remembered for so many things, but mostly Dave and I will remember him for all the fun times we had with him and how much he loved his son. He also loved all the pets in our lives so much and we hope he is reunited with Thomas, Bailey, Rocket to name just a few. Wendy's friend Lisa was like another daughter to us and has many great stories about Steve. Playing cards with the family at Ile Des Chenes was another thing Steve enjoyed. Cremation has taken place and a memorial service celebrating his life will be held on February 9th at 10:00. Reverend Nancy Finlayson will officiate. Due to covid restrictions there is a small number of people attending in person but there will be a video option. In lieu of flowers, if you so desire, donations can be made in Steve's name to the Bruce Oak Recovery Centre - https://www.bruceoakerecoverycentre.ca/ Rest in peace Steve - we will love you and miss you forever


Share Your Memory of
Steven
Contact Us
(Just a few seconds North of the Perimeter on Henderson Hwy)
Fax: (204) 505-4491
Have a Question?
We understand that there are many questions that arise when a death occurs. We are available 24 hours a day, seven days a week to answer questions you may have and provide direction. Please call us if you require immediate assistance.