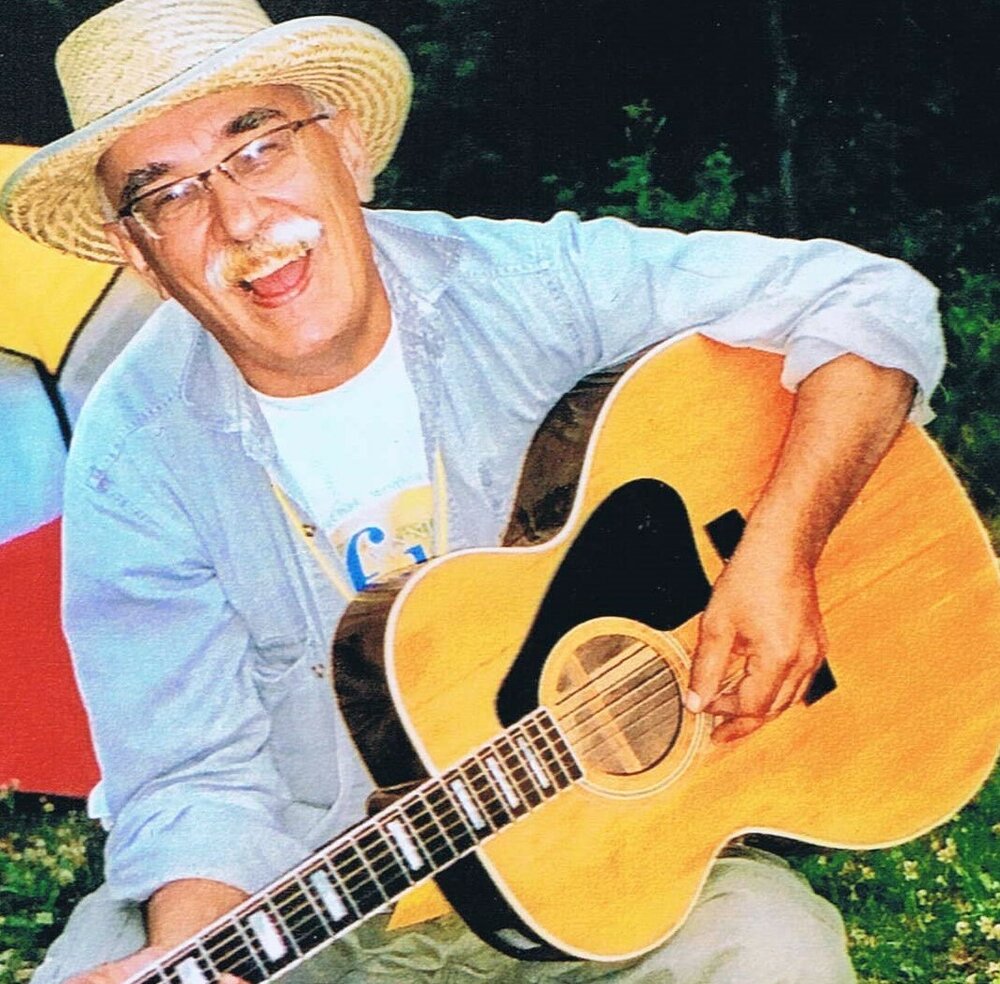 Obituary of John James Oleksiuk
Please share a memory of John to include in a keepsake book for family and friends.
John passed away on April 21, 2022 in Stonewall, Manitoba. He was born April 1, 1945 in Willingdon, Alberta. He is survived by his wife, Irene Shaw; daughter Rachel (Tim) and grandchild Katie; son Andrew (Kelly); brother Victor; sisters Reta Loney, Rose Fedorak, Carrie Porter (Ken) and Diane DeSantis (Tony); and many other relatives and friends dear to him. John was predeceased by his parents Bill and Katie Oleksiuk; two sisters Olga and Elaine; and three brothers George, Donald and Walter. In keeping with John's wishes, no formal service will be held. John's life started on a farm in Alberta and ended on Irene and John's beloved "Bean Acres" homestead in the Teulon area. The long and winding road between took many twists and turns, covering a good deal of miles, both physically and metaphorically. John's first move was to the big city of Toronto from Alberta, where he landed a job at Cole's Bookstore. He just happened to find himself working with another guy, Neil Young, with whom he could share an interest in guitars and music. A remarkable memory of John's is buying tickets and rushing off with Neil Young to see another young musician, Bob Dylan, in concert. John's life seemed full of serendipitous moments and this was certainly one of them. Working at Coles and becoming increasingly interested in music, particularly the guitar and with folk music, was the beginning of his great passion - a life centered on books and music. While at Coles John was offered a position working at a landmark independent bookstore, The Book Cellar, in Yorkville, a hub of art, literature and folk music. The literary scene expanded and inspired his awareness of writers and poets through his daily interactions at the bookstore with brilliant and prominent Canadian and international stars of the book world. The more established and larger bookstores of W.H.Smith, offered John a job with prospects of a career in the book business. John had been considering the life path of becoming a teacher, when W.H.Smith presented him with the opportunity to move to Winnipeg to open a store for them. Another fortuitous crossroad had appeared, and he accepted the offer to move to Winnipeg with his new wife, Anne. Immersing himself in the literary community of Winnipeg, yet another turn in the road presented itself when at a party, he met and talked with Mary Scorer. This meeting led to John working for Mary Scorer and eventually buying the store from her, working alongside his new partner Dallas Hamilton. John developed Mary Scorer books with his personal style of promoting local and Canadian writers and poets. John helped to contribute to a thriving Winnipeg book community. He had a collaborative philosophy of working with other independent bookstores, sharing ideas, strengths, and friendship. He helped to create a supportive environment rather than a competitive one. He naturally built lifelong friendships over the years, with so many people from all walks of life. He did this through nurturing young writers, holding book readings and launches with well-known and lesser known authors, working closely alongside book reps, and with his devoted and rapidly growing group of customers. His boundless passion, work and dedication led him to be deservedly awarded a Canadian Independent Bookseller Award in 1985. He was a beloved bookseller of Winnipeg, with his sense of community, friendship, openness and generosity of spirit. John was loved by so many, young and old. He had two adoring and much beloved children with Anne, Rachel and Andrew, who loved and respected their fascinating and accomplished father. They recall being in awe of all the people he knew and were friends with, including their cherished hero, the popular children's performer Fred Penner! Under John's direction, Mary Scorer's expanded to three stores in Winnipeg and opened a location in Saskatoon, Saskatchewan. John eventually left Mary Scorer's and moved on, to work with McNally Robinson Booksellers. He also created a small self-publishing business for local writers. The Winnipeg Folk Festival was an integral part of John's life and he served as a board member for many years. John had an encyclopaedic knowledge of music, particularly folk music, and enthusiastically volunteered with Home-Made Music, both in Winnipeg and annually at the Winnipeg Folk Festival music tent. He helped out with everything from building shelves, managing record sales with his best-loved part of his work at the festival being able to meet and get to know his favourite musicians on a more personal level. John met Irene Shaw in 1990 and they were married in 1998. John was embraced by the Shaw clan and enjoyed very much being part of this big loving family. To quote lyrics from one of John's favourite John Prine songs: "Blow up your TV, throw away your paper Go to the country, build you a home Plant a little garden, eat a lot of peaches Try and find Jesus on your own" John returned to his country roots and they acquired "Bean Acres" (John affectionately referred to Irene as "Bean"), their homestead that they dreamed of, near Gunton. John grew to become a big part of the community in the country during their 24 years there. He volunteered with Teulon and Balmoral United Churches and played in a band with local musical friends, calling themselves "Stone Soup". The last number of years he ran the flea market/antique market in Gunton. He loved his neighbourhood and helped out with whatever and with whomever he could. His years with Irene were ones of great contentment and love. Irene has shared the following beautiful words recently on facebook, describing their love and time together on Bean Acres: "I am so sad to post that my best friend, John Oleksiuk, companion in life since April 1990 has passed away. He was my soul mate. Memories abound. After meeting at "A Course of Miracles" I got the relationship ball rolling, by asking John if he had a typewriter that I could borrow to type up my poems. He obliged, I typed, we talked. We talked, I typed. John, I loved your work as a bookseller, books and music afficionado, our visits to the Children's Hospital book sale, pancakes at Smitty's with Ron Robinson and Carol, Howard and Bev, all for the rich worlds of books. How we loved the Winnipeg Folk Festival (never Folk Fest to us!)…and camping there with Duane and Georgia, you knew your music, sang with me, as you played your guitar. From our first apartment in Osborne Village to a suite in a house on Arlington to our acreage at Gunton, we shared a growing love. Our outdoor Bean Acres wedding was unforgettable, with sunshine and blue skies all weekend, large white canvas Parks Canada tent in the green grass field, fabulous friends and family, your kids, Rachel and Andy, dear to both of our hearts, standing up with us as we said our vows, wild flowers and candles, delicious country fare catered by our good friend, Janine Le Gal, dancing and music beneath the stars as we said "I do" forever. My life with you, John was filled with a love of books, music, delicious dining, friendship, laughter, cozy companionship in the farmhouse in all seasons, memorable movies, our adorable cats (from Sally Rose to Steve and Willie, with numerous cats in between) beloved Maxi, our lab-border collie-sheep dog, happy-go-lucky herding mutt. Life in the Interlake, your Antique store job, my health care job in Gimli, love of community, friends, family, filled our days and hearts. I miss you immensely, my dear John. Words can barely express how much I miss you." John loved people. He was always so friendly with a warm, open smile and heart. Everyone loved John too and he had countless friends wherever he went. His life was full and rich in every sense. He will be missed and lovingly remembered by so many people.... Arthur MacKinnon, nephew of John and Irene, made a brilliant documentary recently, "Johnny-O and the Book Biz", that he released on YouTube, which captured the essence of John beautifully. The timing could not have been more perfect. You can view it at https://www.youtube.com/watch?v=X-pZHkVOCQI


Share Your Memory of
John
Contact Us
(Just a few seconds North of the Perimeter on Henderson Hwy)
Fax: (204) 505-4491
Have a Question?
We understand that there are many questions that arise when a death occurs. We are available 24 hours a day, seven days a week to answer questions you may have and provide direction. Please call us if you require immediate assistance.