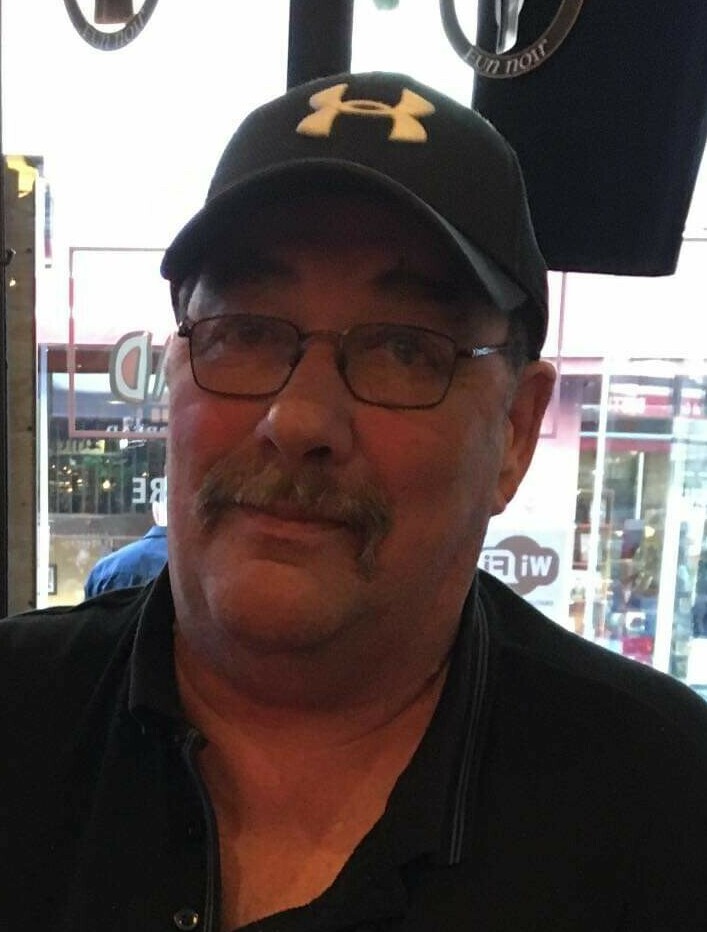 Celebration of Life
2:00 pm
Thursday, October 13, 2022
Cross Church
1787 Logan Avenue
Winnipeg, Manitoba, Canada
Celebration of Life

Get Directions


Obituary of David Peter McDonald Dawson
David Peter McDonald Dawson passed away Oct 2, 2022. He was born in Scotland on June 20, 1953 to Mary and Christopher Dawson who immigrated to Winnipeg when Dave was three. He grew up in Elmwood with his two older brothers Bill and Christopher Jr and his younger sister Jeanette. He was predeceased by both of his parents and his brothers, Bill and Chris. Growing up, he loved playing sports with his favourite being baseball where he excelled as a back catcher. He loved NFL Sundays and was a diehard fan of the Raiders for over 40 years. He married the love of his life, Betty Dueck, in 1974 and was a loving, kind and generous father to Angela (Terrence) and Justin (Juliya). He was an adoring Grandpa to Nick, Kayleigh and Jayla Ouellette and Alex, Jasmine and Anthony Dawson. Our family is our greatest life's work. He was a determined, hard-working man often acknowledged for his work ethic. He welcomed retirement, at age 62, with his wife. His lung disease began in 2016 and he passed away, peacefully, with his family by his side. Dave's celebration of life will be on Thursday, October 13, 2022 at 2:00 PM at Cross Church (1787 Logan Avenue). "Every love story is beautiful but ours is my favourite." Rest In Peace my darling. ---------------------- Dave's Eulogy, October 13/22 David Peter McDonald Dawson was born on June 20, 1953, to Christopher & Mary Dawson in Alloa, Scotland. They immigrated to Canada when Dave was three years old, settling in Winnipeg. He grew up in Elmwood with his two older brothers, Bill and Chris junior, and a younger sister, Jeannette. Dave attended school in Elmwood and loved all Sports, particularly Baseball, priding himself on his expertise as a back catcher. His glove from his teen years has been handed down 2 generations: first to his daughter Angie, and recently to Angie's daughter Jayla. Dave's love of sports has carried him through his whole life being a die-hard NFL Raiders fan for over 40 years and a die-hard fan of the NHL Philadelphia Flyers. Go Raiders! Go Flyers! His passion for sports has been handed down to Justin who through that love of sports was inspired to become a Phys Ed teacher and he to became a die-hard fan of the NFL Saints. It became a father son rivalry which they both enjoyed. Dave met the love of his life, Betty when she moved to Winnipeg with her parents at the age of 17. They were neighbours and one beautiful summer evening, he was brave enough to ask her to go for a walk. They fell in love quickly and got married in 1974. They welcomed daughter Angela Leigh in 1979 and a son Justin David in 1985. At both births he shed tears of pure joy. Many precious memories were made over the years with Dave encouraging them to join sports and both of them becoming keen baseball players. When Justin was 12, Dave surprised him with a basketball hoop and Justin learned to love basketball as well. He played basketball throughout junior high and high school. As a family, summer vacations were special, with many holidays spent at cottages at the lovely lakes in Manitoba. We surprised Angie & Justin one Christmas, in the mid 90's with a trip to Disneyland and oh the shrieks of glee that erupted that morning. We also went on many road trips in our beautiful country and across the border to the USA. Celebrating Holidays as a family, especially Christmas, meant everything to him. Dave spared no expense and the kids basically got everything on their list. He always took credit for having a delicious, moist Turkey at Xmas & Thanksgiving as he basted it meticulously on the hour, as it roasted. He was so proud of Angie and Justin at their high school graduations and later Justin's university grad. I remember his look of pride and some quiet tears at each one. He worked very hard physically in trucking warehouses for over 40 years and was always commended for his strong work ethic. He never complained about going to work which required so much physical strength. Working in warehouses that were either freezing in winter, or much too hot in summer, he did it without complaining because he was doing it for our kids. When Angie & Justin left home to fly on their own, he found it just as hard as I did but felt good that they were responsible and ready to do so. Life got even sweeter when the grandkids came, first Nick, now 22, then Kayleigh now 19, then Jayla now almost 17, born to Angie and Terrence. Five years later, Justin and Juliya had Alexander now almost 12, Jasmine now 9 and lastly, Anthony now 3. Dave nick-named Anthony the "little Boss" when he was 2, as he was a toddler with a purpose! His generous heart for family became even more generous with all our beautiful grandchildren that he adored. Our Xmas budget had no limit…and oh the festive Christmases we've had since. Until he had health issues, he put up Xmas lights outside, giant inflatable Santa's, beautiful lighted reindeer, glowing candles and all manner of Xmas decor. He loved nothing more than our family gathering for birthdays, holidays or just because we wanted to be together. He'd watch for their arrival and when they pulled up in our driveway, he'd tell me "the rug rats are here"! Anything they asked for was a yes, even if they may have surpassed sugar levels at sleepovers! He said, no worries, what happens here, stays here! Over his lifetime Dave made many friends in Elmwood, at work and within our neighbourhood. He cherished all of them always. His friendly nature and his sense of humour was appreciated by all. He loved our home we had built for us in 1986. We had recently discussed down-sizing, but he was not in any rush to do so. He loved our deck backing onto a green space and we spent many hours there as soon as the weather was warm enough. He considered himself a BBQ King and he was! After we became empty nesters, we loved travelling and had amazing vacations from coast to coast in Canada as well as Hawaii, Mexico, the Bahamas, California, and Vegas to name a few. We also enjoyed many road trips in Canada and across the border to the USA. We both had worked very hard for over 40 years and started talking about retiring in 2014 after heartbreaking losses of both his parents and his oldest brother Bill within a 13 month period. Dave had also suffered the loss of his older brother Chris in 2009. We made the decision to retire in 2015. And oh the joy he displayed when his official date in January came and he no longer had to go to work for a 5:00 am start on a brutally cold January morning. He'd smile at me with the happiest smile while having coffee and a light breakfast and say - this is the best life! Freedom of time felt like a gift to both of us. Sadly in 2016, he was diagnosed with COPD which gradually got worse so that by 2020 he had to go on oxygen 24/7. He didn't complain as he was comfortable with the oxygen and meds, as long as he could mainly stay home. We binge watched so many Netflix series together, especially during the pandemic, and of course I kept his snack basket full for him to enjoy while watching TV. He especially loved for our family to come and visit the past few years and he did take me out for dinners on special occasions. In May of 2021, Dave became critically Ill with double pneumonia, and an additional diagnosis of congestive heart failure. We were also informed that he had developed AFIB. I couldn't visit him at all during his hospital stay due to Covid restrictions, so I kept busy at home and constantly prayed that he could come home to us just once more. Thankfully, he did come home to me a week later and he was again comfortable and happy at home with no colds, no COVID, no bronchial infections until a sudden change in late July, 2022. He was treated several times with antibiotics for bronchial infections but nothing seemed to work. On September 29th, Dave had gotten worse overnight and went to HSC via ambulance. On September 30th he was diagnosed with advanced lung cancer. We held hands and felt such despair. Our family came to visit him on Friday evening on October 1 while he was still coherent. In fact, when he was asked how he felt, he said, "good" and gave a thumbs up like always. During the night he took a major turn for the worse and I rushed to his side. Our whole family came in the morning and spent all day with him, encircling him with our love as he fought for every breath. Everyone said their goodbyes with tears and heavy hearts. Little Anthony waved bye bye and blew kisses from his Daddy's arms. After our family left, I spoke gently into his ear and told him he could let go. He had fought so hard for so long. His breathing became less laboured and I held his hand until he took his last, peaceful breath at 12:30 am Oct 2nd. The shock of how fast it went, was devastating but none of us would wish him back to suffer more. Dave lived his 69 years with deep Scottish pride and a zest for living. We believe he suffered more than we'll ever know, battling his disease longer than many could have, without ever complaining, not wanting to leave us. Rest In Peace, beloved husband, much loved Father, adored Grandfather. Love, Your family!


Share Your Memory of
David
Contact Us
(Just a few seconds North of the Perimeter on Henderson Hwy)
Fax: (204) 505-4491
Have a Question?
We understand that there are many questions that arise when a death occurs. We are available 24 hours a day, seven days a week to answer questions you may have and provide direction. Please call us if you require immediate assistance.