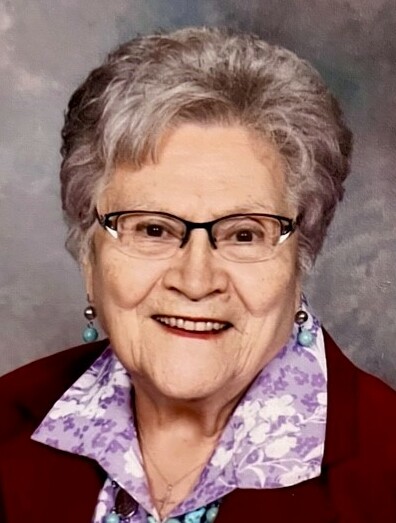 Celebration of Life
2:00 pm
Sunday, December 4, 2022
Faith Lutheran Church
1311 Dakota Street
Winnipeg, Manitoba, Canada
Celebration of Life

Get Directions


Obituary of Corrine Mary Ann Genereux
It is with great sadness that we announce the passing of Corrine (Garrick) Genereux at the age of 96 years at Concordia Place Care Home, in Winnipeg, Manitoba, on November 15, 2022, surrounded by family. Left to cherish Corrine's memory are her six children Gordon (Dorothy) Genereux, Dianne Hettrick, Linda Saurette, Grace Trudeau, Gwen (Bernie) Voroney and Eric (Jermaine) Genereux; her grandchildren Andrew (Aimee) Hettrick, Bill (Lisa) Hettrick, Sharlyn (Sean) Henley, Luke Saurette, Jared (Krysta) Trudeau, Rae-Ann (Patrick) Gagné, Jennifer Joyal (Curtis Dickson), Ryan Genereux and Kyle (Daniela) Genereux; and great-grandchildren Dawson, Justin, Elizabeth, Dominic, Liam, Caleb, Amilia, Rylie, Owen, Eva, Ashton, Myia and Kiara. Also mourning Corrine's passing is her sister Celia Koller and family (Chilliwack, BC); the Dempster family (Gibson, BC); the O'Flaherty family (Winnipeg and Ottawa); the Garrick and Wesley families (Ontario); and her former son-in-law Ben Trudeau (Manitoba). Corrine was predeceased by her parents Fred and Kate (Wesley) Garrick; her siblings Fritz Garrick, David Garrick, Gordon Garrick, Doris Dempster, Anne O'Flaherty, Jessie Boyd and John Garrick; granddaughter Tara Saurette; daughter-in-law Liz DeGray; and sons-in-law Jim Hettrick and John Saurette. Corrine was born on April 7, 1926, in a little log cabin on Birch Island on Lac Seul in Northwestern Ontario. Her family lived there until they moved to Two Point on Lac Seul. Mom was the second oldest of nine children and she fell into a caregiving role very young. She learned to cook with what was available to them on their homestead and the items available at the Hudson's Bay Trading Post. They truly lived off the land by cooking rabbit stew and catching fish. Because of this, Mom had a knack for cooking and was always able to whip up a meal with what was on hand. She was proud to tell the stories of how her family overcame hardships while they lived in this isolated area. At the age of 21, Corrine's first job was at Osnaburgh Nursing Station. She then moved on to work as a seamstress at the Zone Hospital in Sioux Lookout, Ontario, where she would sew hospital gowns. Sewing became a real talent for Corrine, and she enjoyed sewing her own outfits well into her 90s. In 1952, Corrine met and married Roger Genereux who was laborer in construction. Once they started their family, Corrine became a stay-at-home mother to care for her 6 children. Throughout the years of raising her family, she also worked to help support the family when times were tough. She worked as a cook at the logging bush camps while Roger was a bulldozer operator, and she was also a cleaning lady. The family first moved to Joliet, Quebec and then moved back to northwestern Ontario and lived in various towns such as Quibell, Hudson and Sioux Lookout. As a child, Corrine never had a formal education but was able to teach herself to read. She always said her greatest achievement was getting her children a proper education. It brought joy to Mom to see her family experience life and achieve their own successes. Once her children were older, Corrine and Roger divorced. Corrine supported herself by working as a private caregiver to the elderly. Corrine's children eventually all moved to Winnipeg, and she continued to live her life in Sioux Lookout. Mom was a very social person and she enjoyed going to ladies' groups, bible studies, quilting clubs, and of course Bingo. She was proud to be a Red Hat Lady and loved getting dressed up in her red and purple finery for their dinners together. While in Sioux Lookout, she enjoyed an active membership at the Senior's Centre. She regularly volunteered during coffee hour. She participated in the bus tours to Branson, Missouri and Manitoba where they got to enjoy local dinner theatres. Every year during blueberry season, Corrine could be found picking multiple 4L pails full of blueberries. She enjoyed attending the annual Blueberry Festival held in Sioux Lookout. She baked countless blueberry pies and crumbles over the years and shared her recipes and cooking tips with her family and friends. Mom was also very proud of her raisin pie recipe which was handed down to her from her own mother. In 1988, Corrine's life was interrupted when she suffered a brain aneurysm. After emergency surgery, she recovered completely, and she did not let this impact the rest of her life. Corrine always took pride in her appearance and was thankful that her daughter Gwen owned a hair salon where she often enjoyed spa days getting her hair done, as well as manicures and pedicures. Mom had a unique flair for style, wearing bright colors and different patterns. To look her best, she sewed many of her outfits and wore them with pride. She would accessorize with various necklaces, earrings and broches. At her last birthday, she was very proud to give her items of jewelery away to family to pass on a piece of her. Corrine always had an artistic side. As well as sewing her own clothing, she has also knitted many socks, mittens, toques, and slippers. She has crocheted countless afghans for family and friends as that was her special way of welcoming new babies to the world and celebrating life events. In her later years, she found she had a talent for painting. These paintings hang in the homes of her family members today. In her mid 80's, Mom moved to Winnipeg to be closer to her family. She found joy in new friendships, walking to the mall on a nice day and enjoying monthly trips to the casino. One of her greatest joys was gathering with her growing family to have a potluck dinner and to celebrate the many birthdays. As the family grew into its 4th generation, Grandma joined the competitive annual Wing Off Challenge and of course she won with her famous wing recipe! Whenever someone visited, you could guarantee a cup of tea from Corrine. Every once in a while, Mom would show her quick wit by offering up a good "zinger". It was never a dull moment hanging out with Grandma and the laughs that we shared as a family will always be cherished. Throughout her life, Corrine had many opportunities to travel. She loved to travel by train to come to Winnipeg and visit her family and took the train out to BC to visit her sisters. Mom has travelled all over Canada with family and a few locations abroad such as Italy, Costa Rica and she enjoyed cruises to the Caribbean and Alaska. She also enjoyed a trip to Louisville, Kentucky to celebrate the launch of the book, First Lady Nation, a compilation of stories from Indigenous Women. Mom had the opportunity to have her life story published in this book for others to read. She was very proud of this accomplishment having had little to no education. She would like to thank Barbara Bowes for this wonderful opportunity. Faith was an important part of Mom's life. Throughout the years she attended Anglican, Mennonite, Baptist and Lutheran churches. It didn't matter where she worshiped as she said she always knew that she was a child of God and felt his presence wherever she was. We would like to acknowledge Calvary Baptist Church, where Mom worshipped for many years while she lived in Sioux Lookout. We are grateful for the support that this congregation gave Mom while she lived on her own. She often relates many special memories to the times where she was a volunteer cook at the churches' Camp of the Woods. In Winnipeg, Corrine worshipped at Faith Lutheran Church with her daughter Grace. We would like to thank the congregation of Faith for giving mom, a low-income senior, the opportunity to live in the community at Kirchhoff Gardens, where she lived for about 11 years. While here, she attended Bible studies and the weekly quilting club. We would like to thank Adeline Larter for escorting Mom to church when needed. Corrine actively participated in various events held by the church and its youth group which her grand-daughter Rae-Ann directed for a few years. She was most happy when she could share a pot of soup and a tray of biscuits for the weekly Soup and Bread dinners during the season of Lent. A couple years ago, Mom had to move to assisted living at Cathedral Manor and eventually into a Care Home. We thank the staff at Misericordia Transitional Care, Poseiden Care Home and Concordia Care Home for their very thoughtful, caring ways with Mom. We are very grateful. To sum up Corrine's life, Mom embraced life with a spirit of giving; giving of herself, her talents, and her treasures (meager as they were). Mom was our role model; her spirit will forever guide us. Grandma A grandma is someone who's dear in every way. Her smile is like the sunshine that brightens each new day. A grandma is someone who plays a special part, In all the treasured memories we hold within our heart. Author unknown A Celebration of Life will be held on Sunday, December 4, 2022 at Faith Lutheran Church (1311 Dakota Street) at 2:00 pm.


Share Your Memory of
Corrine
Contact Us
(Just a few seconds North of the Perimeter on Henderson Hwy)
Fax: (204) 505-4491
Have a Question?
We understand that there are many questions that arise when a death occurs. We are available 24 hours a day, seven days a week to answer questions you may have and provide direction. Please call us if you require immediate assistance.