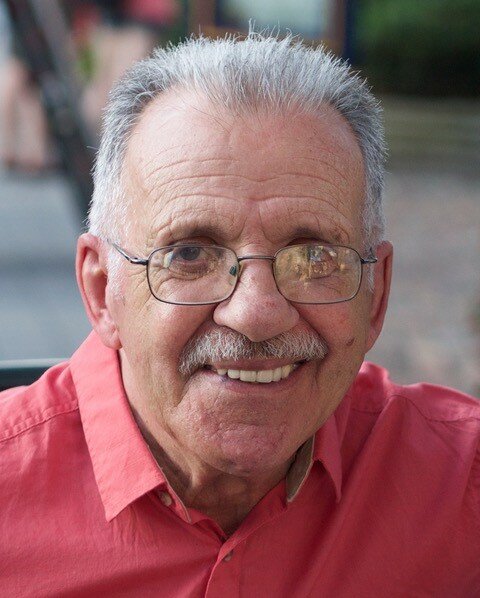 Obituary of Ralph Aiello
On November 16, 2022, Ralph (Raphael) Aiello, age 87 of Winnipeg, went to be with Jesus after a long difficult journey with Alzheimer's. Ralph is survived by his wife, Maria, son Genico Raphael (Andrea), his grandson Rocco Raphael, sisters Connie Raccio, Rachel Chepil and Diana Aiello and numerous nieces and nephews. He was predeceased by his parents, Luigi and Catarina Aiello and his brother, Tony Aiello. It is comforting to believe that Ralph has gone to a better place, where he will be whole again without the ravages of dementia, where he will once again be the kind, caring man we all knew and loved. We like to think of him singing loudly with the angels. Ralph had a great love of music and, in his early years, sang professionally with his brother in a group, the Fashion Four. When that group disbanded, he went on to sing on on his own for another seven years, in Winnipeg as well as travelling to Europe. In 1970, he decided to give up singing professionally and shortly after, met Maria. At the time, a confident 35 year old with his flashy fashion, his prized 1967 Pontiac 2+2, and his impressive dance moves, he quickly swept her off her feet. Coming from two very different traditional cultures, their relationship was originally met with disapproval from their families. But their love was no match for tradition and their parents soon came to see what they saw in each other. After a brief, intense courtship, they were married in December, 1970. Although Ralph was older when he got married and when his son was born in 1975, he was a wonderfully engaged husband and father. His family was without a doubt his priority and he would work tirelessly to make sure they knew it. He never let age be an excuse and would often claim it was his "Italian blood" that kept him so young and vibrant. Ralph never ever complained and would always put the needs of his family and friends before his own. He was humble to a fault, never wanting to be seen as needing anything, especially attention or pity. Most people will associate Ralph with casual attire and skate shoes, but in those early years he enjoyed the fashion and garment business and worked in retail, selling men's suits at Tip Top Tailors and Holt Renfrew. Although frugal by nature, he appreciated a well made garment and prided himself on being a sharp dresser with his tailored suits and extensive tie collection. Eventually wanting more regular hours, Ralph went on to work as a courier until he retired in 1996. He was a hard worker that prided himself on his work ethic and was well regarded by his coworkers and customers for his cheerful demeanour. Even though Ralph was a city kid, he loved the idea of country living. Maybe it was his love for horses that inspired his desire to settle on a country property. In his thirties Ralph discovered his love for riding and suddenly this city kid had bought two horses, a saddle, and some cowboy boots. Riding seemed to open his eyes to getting out into wide open spaces and the desire for some land to call his own. For most of his married life, he lived with Maria on acreage in the country. He loved working outside and the yard reflected his hard work. It was a great place for him to spend time with Genico and his friends. He was always willing to play ball or help provide what they needed for adventures, regardless of the work or materials required. Ralph loved young people, regardless of what they looked like or wore. He saw the good in everyone, and was especially fascinated and inspired by the youth at The Edge Skatepark. During the years Genico was working at the Edge, Ralph volunteered regularly, doing anything that needed doing while interacting with the kids. He became a welcome fixture at the skatepark and later at the skate shop. The kids always appreciated his humour and willingness to engage. His nickname was Little Pizza, in honour of his short stature and love of pizza and all things Italian. Ralph loved people as a whole, never had a bad thing to say about most anyone, and was quick to offer a helping hand in any way he could. He embodied what it means to have a servant heart, always looking for practical ways to show those around him he cared. This was especially evident with his daughter in law Andrea who he loved taking care of with simple gestures and practical acts of kindness like bringing her coffee at work or always making sure her car was well maintained and had a full tank of gas. It fed his soul to cheer people up or make them feel special. He was especially cheerful in the mornings, sometimes driving his family crazy with his singing and whistling, something we'll now miss. After his retirement and move to Winnipeg, Ralph joined The Sisters of the Holy Rock and enjoyed singing with them for seven years. Ralph was a perfect fit for the group with his sense of humour and love of performing. This five foot seven Italian spark plug in a nun's uniform was a sight to behold. Easily the highlight for Ralph in the latter years before the disease took hold was the birth of his grandson Rocco. He absolutely adored his grandson and the two of them could often be seen rolling around the floor playing, dancing around in costumes, or chasing around after each other in the yard. We're so grateful for the good years they had together before the disease robbed Rocco of his special buddy. We will cherish those memories, family trips, and photos of the two of them and their adventures forever. Even in the latter years, Rocco was so gentle and patient with Grandpa, showing him love and kindness despite the loss of their ability to interact. Rocco's empathy towards his grandparents and his support of his grandmother has been beyond special to observe. He was God's reminder to our family that Ralph's legacy would live on long past his eventual passing. Despite starting his journey with God late in life, his commitment and enthusiasm were inspiring. His relationship with God brought him a peace and contentment with a life that although challenging at times, was truly remarkable. Ralph lived with Maria until 2018 when his care at home became too difficult. He was admitted to a long term care facility, where he resided until his death. In the beginning of his time at Luther Home, he still sang at times, entertaining the staff and residents even though it was often just one long operatic note. Shortly after he went into the home, Ralph sadly lost his ability to sing or speak, and eventually began to no long recognize his family on a regular basis. But he still loved visits, responding more to hugs and touch than verbal interaction, and occasionally giving you a look with his eyes that said "I love you". Over the last few weeks, after no longer eating and drinking, he slipped away quietly with Maria and Genico holding his hands and telling him how much he was loved. He will be missed, but now he can be remembered for who he was prior to the loss of his memory and persona to Alzheimer's. The family is very grateful for the wonderful care from the medical and nursing care staff, especially Nadine, at Luther Home. They truly made our journey with this devastating disease and Ralph's death manageable. We're also thankful for the outpouring of support from friends and family and all the special memories that have been shared of how this simple little man left a big imprint on their lives. A memorial service for family and close friends will take place at a later date.


Share Your Memory of
Ralph
Contact Us
(Just a few seconds North of the Perimeter on Henderson Hwy)
Fax: (204) 505-4491
Have a Question?
We understand that there are many questions that arise when a death occurs. We are available 24 hours a day, seven days a week to answer questions you may have and provide direction. Please call us if you require immediate assistance.