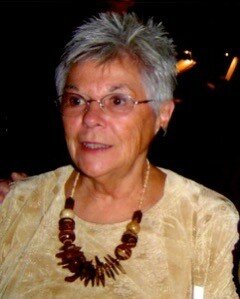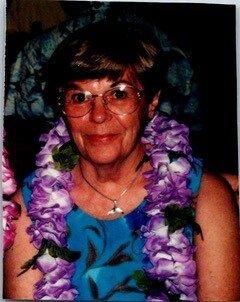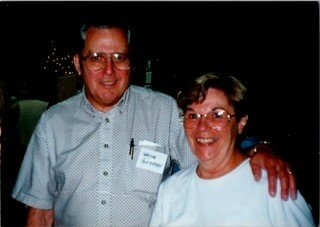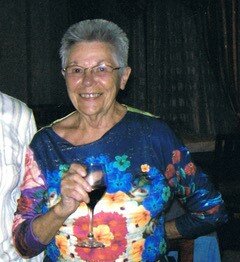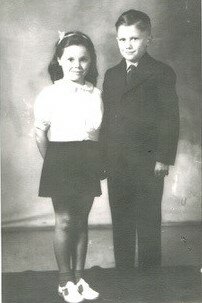 Obituary of Kathleen Joyce Choptain
While admiring a beautiful clear blue prairie sky and surrounded with love, our dear mother, Kathy Choptain (nee Huffman), passed peacefully in her home on November 24, 2022. She is survived by her loving daughters Cheryl (Adrian), Chris, and Tracy; her grandson Ryan; and numerous other extended family members and friends. She was predeceased by her parents, Olive and Ken Huffman; her husband Jack; and her brother Wayne Huffman. Kathleen Joyce Huffman was born October 25, 1937, in Flin Flon, Manitoba, to Olive and Ken Huffman. Thus began her 85-year adventure. Even at a young age, she was strong-minded and strong-willed. She stopped attending school at age 12, and when her father found out, he took her right back to the school, where she promptly walked right out the back door again. Given an ultimatum by her father to get back to school or get a job, she marched out of the house and started working at Freidman's Confectionary in Flin Flon. A family friend and her father eventually convinced her to attend what is now known as the Athol Murray College of Notre Dame in Wilcox, Saskatchewan. Pere Murray and Sister Mary Edith had no idea what they were in for! Kathy always said you were never a true "Hound" until you were kicked out of Notre Dame at least once. Kathy certainly fulfilled that rite of passage. She was kicked out of Notre Dame College several times over the years for partying, smoking or some other "great" adventure, always returning to a school she said was a turning point in her life and that gifted her many lifelong friends. One of Kathy's adventures during one of her "sabbaticals" from Notre Dame included joining the Canadian Air Force. She spent time in Quebec and Ontario training for radar control. Kathy was a proud Notre Dame "Hound". She sponsored/billeted many Notre Dame hockey players when they came to Winnipeg for hockey tournaments and always loudly cheered from the stands and let the referees know exactly what she thought of their calls. She also devoted time and energy to raising funds to help create a scholarship in Father David Bauer's name. Life eventually took Kathy to Brandon and then Thompson, where she met her future husband, Jack. Now back in Winnipeg, Kathy and Jack married in 1962 and welcomed their first daughter, Cheryl. They moved back to Thompson in time for the birth of their daughter Christine. The family eventually moved back to Winnipeg, settling in Transcona, where they made many lifelong friends and memories, and where Tracy came along and joined the family. "Chatty Kathy" really enjoyed people. She always loved a good party and never turned down an invite for a game of cards or a board game. She could be heard laughing and talking across the room and was often engaged in some shenanigans (often alongside her sidekick and good friend June). Mom and Dad's home was always open to friends, family, and neighbours. Over the years, they hosted many family gatherings, pool parties and BBQs. And Kathy really loved her wine! Red only, please. Kathy was a proud Flin Flonner, A town built atop an impenetrable rock outcrop and named after a fictional explorer from a paperback novel. Flin Flon was a source of pride for Kathy and pivotal to her character, and the mining town forged some amazing lifelong friendships. She was part of the original group to organize the monthly Flin Flon lunches in Winnipeg, which brings together young and old ex-pat Flin Flonners. She and her brother Wayne enjoyed reconnecting with many Flin Flonners at the large homecoming reunion in 2000. Kathy loved to travel. She and Jack went to Jamaica many times over the years. After Jack died in 1989, Kathy continued to travel with her close friends June, Sandi and Ruth, including vacations across Canada, Cuba, Mexico, Hawaii, and several Caribbean cruises. Kathy held numerous and diverse jobs over the years, including retail, hospitality/bar server, funeral home worker, real estate broker, house sitter, pet sitter, and resident caregiver. She was most proud of her 20+ year career at Concordia Hospital, working as a ward clerk and then an emergency ward clerk. She was a proud and longstanding union member and was elected President of her local union, CUPE 1973, for many years. Kathy was awarded the Jack Rodie Award for CUPE Member of the Year in 1996, recognizing her important work and celebrating her positive impact within CUPE in Manitoba. After Kathy retired from Concordia Hospital, she moved to Toronto for 3½ years to become the resident caregiver for a family friend, Isabelle. She loved Isabelle like family and was sad when she eventually had to return to Winnipeg. Kathy never wanted to sit idly, and she continued to work, helping people as she loved to do, until she was 74, when some health issues required her to slow down a bit! Kathy loved to garden. She had a large backyard vegetable garden in Transcona, and when she eventually moved into an apartment, she often tended to Cheryl's and Chris's gardens and flowers. In 2001, she joined the Millenium Community Gardens in North Kildonan. There she volunteered, met many wonderful friends, and participated in many fundraising activities, BBQs and potlucks over the years. She always had a big hello and smile for everyone there and was always quick to offer her help or advice (even when not asked!!). We were fortunate to be at the gardens often to witness "Chatty Kathy" at her best! Kathy quietly gave her time and energy to philanthropic work. She helped to create a green space in the inner city, volunteered at Winnipeg Harvest, volunteered as a participant to help develop pilot projects impacting senior health, and signed up as a subject for longitudinal studies related to senior health. She also volunteered at Westview School in Transcona, which allowed her more time with her grandson Ryan. Simple acts of kindness were constant, ensuring vulnerable persons had toques, mittens, and socks to keep them warm during the harsh prairie winters. Kathy always reminded us that regardless of our personal hardships, there was always someone worse off who needed our help. One of her greatest gifts to Manitobans was the final act of donating her body to the University of Manitoba to help educate future medical professionals. This past year, Kathy's health began to fail as she battled lung cancer. She had decided (long ago and before her diagnosis) that she would be using M.A.I.D. (medical assistance in dying) to leave her adventures behind. She lived as she died, determined and in control. As a result, her passing was very peaceful, with all her family by her side with a glass of red wine in our hands, celebrating her life. Kathy wanted her family and friends to know that they brought love, laughter, meaning, and joy (along with a bit of sarcasm!) to all of her life's adventures and the times they spent together. Special thanks to lifetime friends (here and not here) who provided great support and comfort over the years. The family would like to thank everyone for their well wishes and love during this time. They would also like to send their heartfelt thanks to the Palliative Care Team and the Medical Assistance in Dying Team for making her final days as comfortable as possible and her dying dignified. We would especially like to thank all of Kathy's Home Care support workers who provided her with care and kindness over the last few years. No formal service will be held at this time. When spring blooms again, we will celebrate Kathy's life. Family and friends are invited to leave condolences and share memories on Kathy's memorial page at www.alternacremation.ca. In lieu of flowers, donations may be made in Kathy's memory as per her request to Manitoba Harvest or The Salvation Army. We love you mommy.


Share Your Memory of
Kathleen
Contact Us
(Just a few seconds North of the Perimeter on Henderson Hwy)
Fax: (204) 505-4491
Have a Question?
We understand that there are many questions that arise when a death occurs. We are available 24 hours a day, seven days a week to answer questions you may have and provide direction. Please call us if you require immediate assistance.